Forever:You and Me
March 30, 2009
Love is a strong word, yet I can use it so easily to describe us, what I feel, what I know you feel too. You open my mind to new things, you are the dream I have been searching for. You complete me, with out you, there is a part of me that is missing. That will remain missing until you return. Just minutes away from you kills me. Every time I hear a love song on the radio I think of you, you smile, your eyes. When I hear your name I smile even if their not talking about you. Every time I turn the corner I hope you are there. When I turn in my bed I wish I was turning to face you, as you put your arms around me. Romeo and Juliette's love for each other can't compare to what we have. I would give my life to be with you forever. To not have to go one more night with this piece of me missing.

Some call me crazy, then go ahead. I'm crazy for you, all because of you. You made me this way and I will never be the same. I'm thankful to have you in my life, you're the only thing that keeps me tied to this crazy world. This crazy world, in which no one can understand us.

I sit in a completely quiet room, silently laughing to myself; laughing over something you said or did. I sit and cry at the cute things you say to me. Even a simple "I love you." brings tears to my eyes. The day I met you I will never forget. The day we first kissed, forever, the happiest moment in my life and every day I see you I add a new memory. A memory that I will never forget. I know I can say you and me will be forever. I will always love you, one way or another.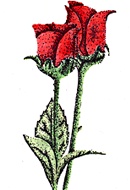 © Sarah M., Phoenix, AZ