Delight
March 3, 2017
My eyes twinkled like the sparkling stars as I met the smiling pink cafe. The sun illuminated the passion pink potted dahlias on the windows and they greeted me with pleasure. I gazed at the window as I saw my reflection. The windows were pure and clean but I looked past them. I wanted to unravel the delightful treats that I locked onto within the cafe.
The cafe saw me and with open arms, topped with a cheeky smile, he welcomed me in. I waltzed in the cafe and was caressed by the rich aroma of brazilian roast. The glass display envelopes an array of sweets. The sweets were crafted delicately and could be whisked away to him as it were a love letter. Each cake was embodied with love that captivated my heart. Infatuated by the assortment of sweets, I leaned towards the barrier between us to take a closer peek. My breath fogged the glass with a smooch of air like blood rushing to his rosy cheeks. I contemplated on which one I wanted as time slowly ran from my fingertips. Each flavor manifested with bliss that spoke words of kindness to me that were followed by a kiss. Choosing one cake over another was like an affair. It was sinful to choose among his delicacies. Each cake was flawless.
Before the clock struck midnight, I chose a prim pink cake pop topped with a perfectly piped heart. I admired the luscious pink shade as I slowly glide over to the regal chair. I felt like a princess. I took a seat as I am overwhelmed by feelings of gratitude.  It was a blessing to have had a chance to taste this delectable cake pop. I took one last glance before I let the magic slowly dance its way down my tongue. The taste so divine, encases my body with warmth and glee like how his cuddles kept me warm during the cold nights. I cherish this heavenly taste before the fluffy and soft sponge like cake slowly melts away.
To my surprise, a whiff of caramel latte creeps its way into my heart. Leaving me breathless, the scent echos through my body with feelings of serenity. I grasped onto the snowy white mug as the latte warmed my hands. The warmth swirled into a lyrical beat through my hands leaving it tingly. These feelings were reminiscence of when he would surprise me with pretty pink iris. I took a sip of the latte and the melodious tune of the coffee flows into my ear like his dulcet voice. I daze blankly outside yet all I see are cakes, cookies, brownies, pies, tarts, muffins, and doughnuts. I am trapped inside this sweet world embroidered with hearts. I am in a perfect candyland crafted with his love. The cafe embraced me and continued to shower me with cakes everyday.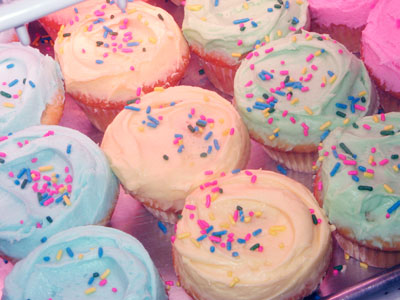 © Maria D., Sandy Hook, CT