Claudia
September 13, 2016
 All his life there had been voices. Mostly voices behind his back. He'd tried to ignore them, but there were some words you just couldn't ignore. It had started with his parents, then the therapists, then the doctors. School wasn't any better. Nothing changed throughout preschool, elementary school, middle school. Those words were with him always. Disturbed. Weird. Flaky.
Crazy.
But he didn't mind. Not so long as Claudia was by his side. They'd met when they were both three, at a playground, underneath the swing set. She asked him to push her swing and he agreed. Best friends ever since. She was with him all the time, through all the words. She was there to tell him that they weren't true, and he believed her. And so, maybe with her, high school would be bearable.
He stared at the glass doors in front of him and swallowed nervously. His hands were shoved deep into the pockets of his too large hoodie. Claudia was there too, her arm wrapped around his. "You can do this, Zach," she said with a smile.
He turned to look at her blue eyes and curly brown hair. She was wearing a red and white polka dot dress, his favorite outfit on her. She'd probably worn it for him, and that made him smile.
"I know, it's just…" He trailed, his eyes returning to the giant doors in front of him.
Her arm retreated from his, but her hand reached the one shoved into his pocket.
  "It's just the first day of high school. Nothing's going to change, for better or for worse."
"They're going to say things about me," he said, still staring at the doors.
"Ignore them."
"They're going to point at me."
"Pretend you don't see."
"They're going to laugh at me."
"I'll be right here, Zach." He finally pulled his gaze from the door to look at her. Claudia's blue eyes stared deep into his hazel eyes. "Nothing matters as long as I'm here. We're in this together, right?"
He believed her, he always had.
"Right," he replied with a crooked grin. Words didn't matter to him, not today. Not as long as Claudia was by his side.
And so, together, they pushed open the doors to enter the world of high school. There were more people than he expected, but he ignored them. He walked hand in hand with Claudia, listening and laughing at her jokes. And for once, he didn't notice the words, though there were plenty. He just kept walking and talking.
Walking hand in hand with no one.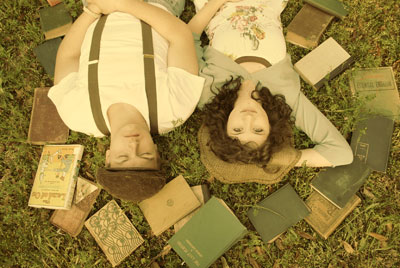 © Gabrielle A., Pensacola, FL