Swing Wishing
January 23, 2014
March 27 was the day we first met. I can replay the flashbacks in my head and remember every detail of the moments we had, from the tremble of your voice to the skipped stitches on the edge of your T-shirt collar. And for the love of God, I fell instantly in love with the cologne you wore and couldn't help but tried to sniff off the charm, charisma and confidence you brought along underneath your sweet aroma. I can remember everything exactly as it was, yet after all these months we've spent together, I don't really know where to begin.

Holding your hand brings me back to when things were still innocent and perfect. I remember holding on to the corner of my father's shirt as tightly as I could, for I could not bear getting lost in the sea of grown-ups. "Here, hold my hand, darling," father said, as he noticed his shirt had been held crumpled. For every step I took and every place I came to, it was safety and trust, as long as father didn't let go of my hand.

I took your hand when we were on the ride back to your place. I can't ever forget the song that played on the music player, I can't forget seeing your tears stream down your face, falling as if a storm was about to come. It tore me apart and broke me into pieces when you cried. But I turned to face the window and smiled secretly because right at that moment, I realized it was only me who could make your tears shed, and it was only me who could wipe your tears away. You slid your fingers between mine when I looked back at you. The sobs I heard turned into a big foolish smile as the corner of your lips lifted. I looked at you to trace the trails of the tears on your cheeks, it was the very first time I was convinced that I had already fallen deeply in love with you.

I fell asleep on your chest that night. I knew it would never be a mistake and somewhere along memory lane, I remember telling myself that this time, it would last - it would be me resting my head on your chest tomorrow, feeling your warm breath on my hair and your warm body against my skin - it would be me the following month, it would be me two years later and it would still be me when we were old and gray.

The least I had ever wanted in my life was to be with someone like you. When I was young, grandmother warned me about boys like you. "They would take you to beautiful places, open your eyes and make you see what you have never seen before. Then when they're gone, you will taste them on your tongue wherever you go. It is going to be bitter, it is going to be sweet, it is going to be painful."

I will think of you when I see the fried oysters that we never got the chance to try in Cheung Chau. I will think of you when I go ice skating and remember how you picked me up from the ground when I fell. I will think of you when I am fighting zombies on Left4Dead2 and pretend you are still on my team as Zoey, covering me when I reload my gun. I will think of you when I go shopping and I will walk past the men's section and take a look at the boxers, imagining you grinning when you saw me checking out the boxers for you. I will think of you when I am doing my studies at the library. I will think of you when I play your favorite songs on the piano. I will think of you when I am chugging wine down my throat, I will think of you when I wake up from a massive hangover; realizing that I love you when I'm drunk and I love you when I'm sober.

It frightens me sometimes because you are wherever I go, we are wherever I am. You said that the best thing about you wasn't me but us. God, I wish I could find just one tiny flaw in that sentence but how could I possibly deny it? We are so perfectly merged together that it makes me feel so surreal - that it makes me lack the courage to even think about what it feels like to lose you.

I miss the way you pat a little on my head; you'd always do that with a sweet smile after laughing at my silliness. The first time you had to leave me and go back to Edinburgh was at the closure of my long Easter holiday. You didn't leave with a goodbye, or a kiss. You left with a pat on my head and told me that we would meet again in Summer. The wallpaper on my phone your photograph - yours my photograph - I never ever tried to remove it. Well, perhaps once, when we had a huge fight because I was flipping out on you about how you never cared about my feelings when you led me on, making me think you liked me when you still hadn't let go of her. It killed me to look at the picture of you. It reminded me of how much you still loved her. But no, I never did remove your face off my phone because I just couldn't bring myself to press Delete.

I know I shouldn't talk about your scars, but honey, they are another reason why I adore you so much. You see, scars are beautiful. They signify damages and destruction. They are what once hurt but couldn't kill. If you have a scar there, young man, you are one damn lucky fellow; for it means you have survived the pain and now here you are, laughing about what had happened. Don't ever try to hide them, my dear, you should know how much of a weirdo I am - I have a thing for the strong ones.

Last night, the sky had been the clearest of all I've seen ever since school had started. I lifted my head to the sky and closed my eyes as I swung back and forth on the swing. I made a wish. It's been a year or so since the last time I came to this park to wish for something. What I wished for last night, I think you would've guessed right, but please just keep it between us. It was sacredly and carefully wished upon the sky and I don't want it to be ruined.

You got off the swing from which you were sitting on my left and knelt before me. Nothing made a sound and it made me feel so right. Normally, I would have held it back but it was so hard to, so I wrapped my arms around you and allowed the tears flood right out of my eyes. And in that nano-second where it felt like everything was falling apart, I sniffed your sweet aroma into my lungs as if the first day I met you, and there, I held my breath, hoping your scent would be contagious enough to fill up my whole body in just a few seconds, let alone stay inside me for the next three months where I couldn't see you. Because the thought of living without the smell of your cologne, your body temperature warming mine, your velvet touch, your caring head-pat, your long and thin fingers that fit perfectly between mine, the sound of your heartbeat, your kiss - you - is unbearable.

If letting go means forgetting, I will forever hold on as tightly as I could, until my strength can no longer tolerate. But hey, I am a survivor myself - scars don't lie - I may even be one of the strongest human being you'll ever meet. After all, how can I forget when you have given me so much to remember?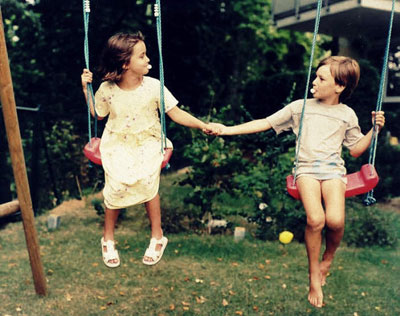 © Lauren K., North Kingstown, RI