Days in Chicago
August 15, 2013
Several months ago he had a crush on her.

A junior college transfer from California, she was a part-time model - her beauty having nothing to do with age - from the misanthrope-with-a-heart-of-gold mold. He was earnest, committed, and perhaps overly grim; he had a sense of humor that made your life worth living, his quips and jokes delivered in a foreign but unrecognizable accent.

When it happened - that night as they lay on the music of the city warmly wrapped in the cloudy night - he had to take advantage of it for it doesn't happen often. His expression of love severed the magnitude of the moment, and he told her exactly which road he wanted to go down. The burning in his ears moved deeper as an old or not-so-old flame was kindled by her telling smile.

These days in Chicago that he would like to name are spent sitting and watching people (who, for some reason, seem to be speaking French) over intimate conversation. She tells him about being abducted at sixteen and he shares his lonely, ever-cold childhood with her. It's very close to therapy, the difference being that the unspoken message "we're both going through all of this together" keeps growing outside of the sessions.

Of course it is anything but simple. Any relationship forged in youth with all of life laid ahead rarely is. Yet, in the still of the morning, trains clanking somewhere nearby, God sees her - in front of her vanity mirror framed with postercard images of Sorrento, Italy (he promises her that "one day, we'll go there together") praying that this love will live beyond its shelf life of two years - and He smiles tellingly.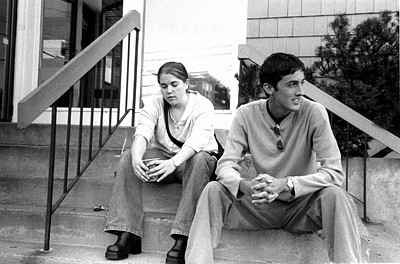 © Emily E., Marblehead, MA