Short Prologue
April 10, 2013
I was standing there, just me, in the middle of the Chicago airport, looking around like some lost tourist. I started to feel a little embarrassed, but I knew that if this was true, the best moment of my life was about to happen. I pulled my suitcase and carry-on closer as people started walking a little closer to me. As I kept looking around, I still didn't see her, I started to feel a little down.

I startled, and whirled around as I heard someone distant scream "Emily!"

My heart pounding, temples pulsing, palms sweaty, but she was in no sight. I started to think maybe something was wrong. I slowly took one more look around me, and as I turned, there she was, standing so straight, just staring at me. A half smile, amazed, lost look was all I could read on her face.

There was a long pause, in which reality stopped, where time just stood still, and we just stared at each other. She was only feet away from me, and all I could do was stare. The loud obnoxious screams of babies, the clanking and clangor of people rushing to their flights, and the two of us were in the middle, unable to hear any of it. Her eyes were glowing like stars, her hair was combed straight down, and she wore casual clothes, but she looked more beautiful than she had ever looked before. My palms started to get even sweatier, I could feel my heart move up into my throat and thump louder than ever before, my temples pulsing, and my eyes never left hers. I couldn't take it anymore, after what felt like hours, I couldn't help but smile. I smiled from ear to ear as I watched her do the same.

She took a small step forward, and the she started running, and I started to move toward her as I anticipated holding her in my arms. Our eyes met, I saw the amazing smile on her face, and we finally came together. I heard her let out a small laugh as she threw her arms around me and dug her head into my chest. I squeezed her as hard as I could, and smiled even bigger when I felt her squeeze back. I lifted her up a little, and took my head away from hers as I held her in the air. We put our foreheads together and she put her hands on my cheeks, and we stood there, oblivious to the world, as we stared into each other's eyes. I put her down as I took my hand and touched her cheek, and I started to gently fix her hair. I looked back into her eyes, and all I could say was "Hey", as I gave her a sheepish smile.

She looked back at me, and all she said was "Hey", and gave me the most amazing smile I had ever seen.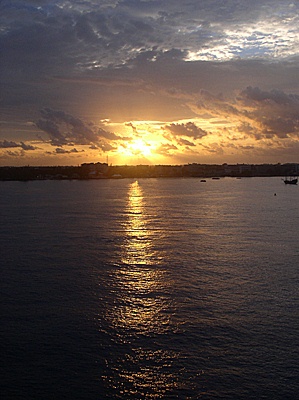 © Rebecca Y., Los Angeles, CA