Half of a Song
November 13, 2012
Jenny and Will had only been dating for about a month. In that time, they had gone to three concerts, a movie, and dinner at least twice. Most of the time, though, all they did was spend time together, even on the simplest of errands. The conversations would be along the lines of "Hey, I'm going to the grocery store. Wanna tag along?" followed shortly by "Yes!" And usually, they listened to music on these trips. This was because the two had met at a local concert, and had, in essence, fallen in love over their similar tastes in music. Further, Jenny was rather soft-spoken when she was outside her or Will's home. So, it tended to be difficult to have a conversation with her, as Will would have to bend over to hear her, no easy feat when Will stood at least a foot taller than her.

So, the two would listen to Will's music player any time they were out together. But it was an old gadget, and tried as hard as it could to work, but sometimes it needed a break. The main concern, to Jenny, were the earphones. Will would listen to the right earphone while Jenny used the left. And she would, on occasion, jokingly complain that the earphones were terrible, and that she should get the right one, but will would convince her every time that the left was the best.

Time went on, and one day, Mike went off to join the military, as his father had done, and his father, and so forth. With the promise that he would return, Mike went off. A short time later, with little else to do, Jenny started looking through some of Mike's things, and found his old music player. He had since gotten a new one, a gift from an uncle that actually worked well, but Jenny found that she wanted to listen to the old one, for old time's sake. So, she turned it on and put the earphones in her ears.

As it had for as long as she could remember, the left one hardly worked, giving her a muted version of the song. But, to her confusion, the right one didn't work at all. She did all the little tricks she could think of, spinning the input, restarting the player, among others, to get it to work, but no music came from the earphone. This got her to thinking. And soon, she realized that this headphone must have never worked. Will had listened to nothing while she listened to music he had picked out for them. But at first, it didn't make sense, as he would frequently sing along with Jenny whenever she decided to start singing. She realized he must have memorized most of the lyrics to the songs so he'd be able to keep up the illusion that they were both listening to the music.

And so, with a soft smile and some tears, Jenny listened to only half a song for the next hour.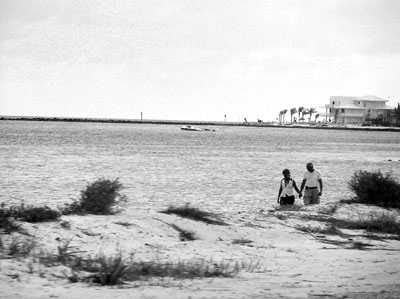 © Edgard B., Coral Springs, FL