One Last Time
October 4, 2012
"Do you Arlie Marie Parker take Keviontae Ray Harris as your husband?"
Arlie bites the inside of her lip, staring into Keviontae's caramel orange eyes. She smirks and softly with happiness in her voice, "I do."
Keviontae half smiles and fights the urge to kiss Arlie.
"Do you Keviontae Ray Harris take Arlie Marie Parker as your wife?"
Keviontae looks deeply into Arlie's beautiful baby blue eyes and squeezes her hand gently. "I do."
Father Desean grins, happy for his best friend's son. "You may kiss the bride."
Keviontae leans in and kisses Arlie deeply, yet very softly. He whispers on her lips, "I love you Mrs. Harris."


~ * ~ Three Months Later ~ * ~

Keviontae walks in the front door after work, "Baby I'm home."
Arlie rushes into the living room. "How was your day? Did you get to record your new song?"
Hurrying to his beautiful wife, giving her a peck on the cheek Keviontae puts down his note book. "Yes, I recorded my new song," he smiles. "Mr. Hawker said 'it was the best one yet!'"
Arlie smirks and gets up on her tippy toe, softly kissing his nose. "Good Amor, but…" Looking down Arlie grabs Keviontae's hand. "I have to tell you something."
He looks down at her, gently putting his finger under her chin directing her head to look up at him. "Yes Hun, anything"
As she grins looking up at him, "You might want to sit down babe. I have to go get something."
Keviontae walks to the couch, feeling kind of worried. Once he sits down, Arlie appears with her hands behind her back. "Baby guess what?"
He looks at her and sighs, "You're scaring me."
Arlie giggles and smirks, "Oh baby calm down!" She hands him a pregnancy test. "Read it."
Sitting up straight and reading the test out loud, "Positive." Keviontae stands up, wrapping his arms around Arlie and smiles big.
Arlie looks up at him, "Excited much?" She giggles.
Keviontae kisses her softly and picks her up, hugging her tightly, "Hell yeah!" He exclaims while setting her down. Getting on his knees, "I don't care if you're a boy or girl." He whispers to Arlie's stomach. Lifting her shirt up to see the tinny belly, he kisses it while still whispering, "I can't wait to hold you in my arms."
The next morning as Keviontae gets ready for work Arlie tells him her plans for the day. "'m going to go in and see Doctor Kelly."
Keviontae puts on his shoes and grabs his notebook with all of his lyrics, "Sounds good to me babe. Just send me an email when you get home." He kisses her nose and grabs his keys.
"Okay Babe. Have a good day," Arlie says to her husband as he walks out the door.
Arlie showered and got ready to go see Dr. Kelly. Before she leaves, she grabs Waters Wallie World's magazine. As she is paging through it she sees a really cute bedroom set for the baby. "Oh my," she whispers to herself. She runs to her computer and sends Keviontae an email telling him that she is stopping at Waters Wallie World after the doctor appointment.
"Arlie Harris?" Calls Dr. Kelly's nurse.
Arlie gets up off her chair in the waiting room at the doctor's office and follows the nurse to the room.
"How are you today Mrs. Harris? I hear you have a little one on the way?" She says looking over at Arlie as she sits on the bed.
Arlie hides her smile looking down at her belly, rubbing it. "Yes, we do have a little one on the way. You have no idea how excited we are."
The nurse giggles a little as she checks all Arlie's vitals. "I hope you have a good rest of the day. See you next time." She walks out the door, then pops her head back in because she was a little too excited and forgot to say, "Dr. Kelly will be right with you."
"Knock, knock." Dr. Kelly walks into the room. "Good morning, Arlie! How are you?"
"I'm pretty good, a bit excited," Arlie says with excitement in her voice.

"Oh I bet. How is Keviontae taking the news?" She asks as she is setting up the ultrasound machine.
Arlie watches her and lies back, pulling her shirt up a little to show her belly. "Oh boy, I haven't seen his eyes sparkle so much since the day we got married!"
"Awe, that's good. And sorry this might be a little cold." She says as she squirts the gel onto Arlie's belly.
Arlie feels a chill run through her body as Dr. Kelly rubs the icy gel all over her belly.
Dr. Kelly gently places Transducer on Arlie's belly.
As the Transducer sends rays through her belly, Arlie watches the black and white picture of her unborn child show up on a little screen next to the bed. A tear runs down her cheek, "how far along am I?" She inquires.
Dr. Kelly looks at the screen and thinks for a moment, "I'd say almost 16 weeks." She turns and looks down at Arlie, "You're due date is going to be around May 5th 2069."
Arlie smiles shyly. "That's my dad's birthday."
Dr. Kelly takes some pictures with the Transducer and cleans the gel off Arlie's belly with a warm washcloth. "Good birthday present, I'd say."
Arlie pulls down her shirt and sits up, "Awe yeah that would be a good gift." She gets up off the bed and slides on her shoes. "How much longer till I can find out the gender?"
"About 4 to 6 more weeks," Dr. Kelly grabs the pictures she printed off of the baby and hands them to Arlie. "Come back in about 3 weeks."
Arlie looks at the pictures and shakes Dr. Kelly's hand, "Thank you so much!"
"No problem, see you soon."
As Arlie gets into her car she sits for a moment, looking at the pictures. "Baby's first pictures," she mutters to herself.
"Hello, welcome to Waters Wallie World," says the greeter at the door as Arlie walks in. She heads straight to the baby section, looking for the bedroom set she'd seen before. "Oh my god," she gasps as she sees a beautiful white bedroom set with Jasmine yellow sheets. "This is so perfect."
"May I help you Ma'am?" Mr. Waters, the store owner, said with a crack in his voice.
Arlie turns and looks at him. "Oh Mr. Waters, you scared me there for a moment. But yes, you can help me. What would I have to trade to have this beautiful bedroom set for my little one?"
Mr. Waters looked at the things Arlie was talking about, a beautiful white and gold crib, two matching night stands, a beautiful changing table that attaches to the wall, and a big dresser that matches the night stands, with a big mirror built on top. "Hmm…" He thinks to himself for a moment, "Well I'm not sure. What do you have to offer?"
Arlie lists everything her and Keviontae have to offer. Mr. Waters looks at her in disgust, "Well, all that sounds like crap. What do you think I am?"
Arlie looks at him in disbelief. "My husband will be back to make the trade with you." She turns her back to him and walks out the store, "How rude!" She complains to herself.
By the time she pulls into her drive way Keviontae is already home. Arlie gets out of her car, grabbing the ultrasound pictures and walking to the door. Before she can open the door, Keviontae opens it for her. "How did everything go babe?"
"Everything went well. I'm around 16 weeks." She hands him the photos, "About 4 to 5 more weeks before we find out what sex we are having." She says with a little smirk.
Keviontae looks through the pictures and Arlie notices the sparkle in his eyes.
"Awe, I can't wait! She is already as beautiful as her mommy," Keviontae says kissing Arlie's head.
"She… You think it's a girl?" Arlie says in a very excited voice.
"Yes Amor, I do think it's a girl. So tell me how it went at Waters Wallie World."
Arlie looks down, "Well I found what I want, it's the right color and everything, but…"
Keviontae looks at his wife confused, "But what Sweetie?"
"Mr. Waters was very rude to me about the trade. I told him everything we have to offer, but nothing was good enough to make the trade." She looks up at her husband, "I told him you would go in and make the trade."
Keviontae clenches his teeth, upset about what happened. "What set was it babe?"
Arlie grabs the catalog and hands it to him, pointing to the beautiful set. "They have it there with Beautiful Jasmine yellow sheets."
Keviontae looks at the catalog, "Wow baby, this is beautiful." He mutters to her amazed. "It's neutral to incase it's a boy or girl." He grins down at her, "Would you mind if we go right now? I can bring the truck."
Arlie grabs her purse, "No babe I don't mind. Let's go." She slips on her shoes and heads to the door.
Keviontae beats her to the door and opens it for her, "Ladies first."
Arlie giggles and walks out of the house. "Why thank you sir."
Keviontae smiles and closed the door behind him, automatically locking itself. "Mr. Waters is always a grumpy old man."
Arlie laughs as she climbs up into the truck, "You do have a good point there." She mentioned as Keviontae got into the truck, starting it up.
Laughing, Keviontae slowly backs out of the drive way. "Yes, yes it is a good point."
Pulling into the parking lot of Water's Wallie World, Arlie mutters to her husband. "Look there he is," She points at the man standing by the door.
Walking into the store Mr. Waters notices that Arlie is back and he rudely says, "Well, Well, Well look who decided to come back is that your body guard?"
Keviontae looks at Mr. Waters with disgust, "How dare you speak to my wife like that. What is your problem?" He says angrily
Arlie grabs Keviontae's hand, whispering to him. "Babe calm down. I really want this set for the baby."
Keviontae looks down at Arlie and sighs, "About the set my wife was looking at before, what do you want for it?"
Mr. Waters gives Arlie a dirty look and says through his teeth, "It's is not up for trading at the moment, why don't you look at some of our other baby things we have in back?"
Arlie and Keviontae look at each other and shake their heads. "We'll try later babe." Keviontae reassures his unhappy wife.
Walking to the back of the store Arlie and Keviontae see a adorable Jasmine yellow car seat with a matching stroller. They trade an old TV and a Dining room table for it. They also find a matching Jasmine yellow bouncer seat; they only had to trade a reclining chair for.
~ * ~ Five Months Later ~ * ~

Arlie bolts awake with extreme pain in her abdomen, "Keviontae!" She screams waking him up.
He sits up fast looking at the clock witch says 3:27 am, "What's wrong babe? It's almost 3:30 in the morning."
Arlie lies back onto her pillow. Sighing, Arlie looks over at her worried husband, "She was just moving."
Keviontae smiles, pulling Arlie into his arms falling back to sleep.
The alarm clock goes off at 6:45 am; Keviontae takes a shower and makes breakfast for Arlie. As she wakes up at 7:15 Keviontae sets a tray of French toast with whip cream and bananas on top by her side, with steaming English toffee coffee next to it. "Mhm, my favorite," She says with a yawn, kissing his cheek.
Keviontae smiles, "Careful babe it's hot." Sitting next to her, watching her eat he stares at his baby girl inside Arlie belly, "Just one more month till I get to hold little Faylinn Marie in my arms."
Arlie smirks at the name of her unborn daughter, "Today we have to go back to talk to Mr. Waters about that beautiful bedroom set."
"Yes baby, that's the first thing we will do today. One last time."
Arlie and Keviontae bring a living room set and an extra bedroom set they had to trade with Mr. Waters.
Keviontae went to Mr. Waters' office to talk to him but Mr. Waters wasn't there, Mrs. Waters was there for the day because Mr. Waters had a doctor appointment. "Oh hello Mrs. Waters, I wasn't expecting you. Are you running the store today?"
"Yes Mr. Harris I am, may I help you with anything?" She asked softly with her sweet, old frail voice.
"Yes. My wife and I are expecting a baby in about a month and we have been dying to get this beautiful white bedroom set you have here with Jasmine yellow sheets. Mr. Waters didn't like anything we had to offer so we waited for a while and came back hoping he had a change in heart."
"Oh Dear, I am so sorry. That stubborn old man has his days, but yes I would love to make a trade with you." She gently touches Keviontae's hand, "What do you have with you today to trade?"
"We have a living room set and an extra bedroom set that we had lying around in our garage that we don't need anymore. We can trade both the living room set and bedroom set for the baby's set." Keviontae offered.
"Well, aren't you generous today, but dear I will trade even up with you for just the bedroom set," She said happily.
They made the trade with Mrs. Waters. "Thank you so much Ma'am" Arlie thanked her for the hundredth time.
That night the Harris's set up a beautiful new bedroom set for little Ms. Faylinn Marie.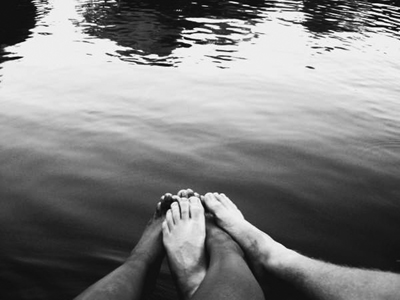 © Michelle W., Ada, MI