The Beat Of Time
August 23, 2012
It is 10:30 pm and 60 seconds, and time has stopped for Elizabeth. Sleepiness has finally hit the marching band. There are a few streetlights lighting up the parking lot filled with buses. But the lights cannot eliminate the world like the moon is. There are only a few more instruments that need to be loaded in the trailer, which are scattered around the trailer. Elizabeth looks up and sees Connor's pale blue eyes watching her. The smell of hard work and sweat surround her. He nervously tapes his toes as she starts to back up. She is only thinks about how she can avoid the truth. Connor has done everything in his power to tell her how much he cares. There is no emotion on her face, and she does not say anything to make time hopefully tick by quicker. Elizabeth's drum sticks fall onto the grown. The sound of them hitting the pavement is all she has left to hold on to. But she just keeps taking one step after another right into a pile of saxophones cases.

It is 10:32 pm and 2 seconds, and time has started again for Elizabeth. She looks up, and sees a smiling drummer. Willie's green eyes are filled with light and happiness. He is her escape, her way out of the silence. He smiles and reaches out his hand. Elizabeth takes his ice cold calloused hand and stands up. He laughs as they begin to line up the fallen black cases. Connor who is unable to move has no choice but to watch as sparks fly in-between them. Willie takes his old drumlin jacket which Elizabeth has in her closet, and drapes it around her shoulders. Elizabeth slides her arms through the sleeves, the jacket is too big for her but she does not mind, instead she says something funny about it. Elizabeth continues laughs and smile as they walk to the percussion bus. It is as she can never stop smiling when she is around him. She looks at him and moves a strand of her auburn hair out of her face. Willie mocks her, but she does not care. She just laughs alone.
It is 10:38 pm and 45 seconds, and time has come to a screeching stop for Connor. Willie and Elizabeth have finally reached the yellow bus were all of the other drummers are still tapping out some rhythm. Willie has his hands in his pockets, but he can't take his eyes off of her. Elizabeth looks over her shoulder and back at Connor. For a split second it seems that time has started again. But she steps onto the bus with Willie instead of running back to Connor.

"At least she looked back." Hunter, a tall thin tuba player says. Hunter hands his tuba to one of the parents still loading the trailer.

"That means I still have a chance." Connor whispers as his blue eyes glance at Hunter.

"Come on man, we are going to miss the bus." Hunter says trying not to face the obvious truth; Elizabeth has a future without him. Hunter knows that even though the days are getting shorter and the cold is coming soon, she won't need someone to hold her. She is strong enough to find her own way to the spring blossoms. He knows that she does not need someone to hold her back; she just needs someone there who can fly with her.


"I guess you are right." Connor says as they head to their bus. One of the streetlights flicker, and dims as Connor takes one last look at the drummer bus.
It is midnight. The five buses pull up to the huge school. Elizabeth sleepily walks off of the bus with Willie behind her. They spent the long two hour bus ride with the warm September breeze coming through the windows and laughing. The lights of the city and country have passed them by in seconds. He laughed at all of her not so funny jokes, and she did not mind when he rested his arm on her shoulder. Elizabeth felt like she is walking on air, but Willie kept her on the ground somehow. Connor steps out of his bus, the bus ride was not as terrible as he thought it would be. But to his dismay he sees them together again. Elizabeth is trying to maneuver around the swarm of band students who are trying to find their instruments so they can go home and sleep till two in the afternoon. She is balance her base drum on one shoulder and holding her uniform in the other. Willie is walking next to her with his quads. Connor notices that the drum heads are broken, but what did he expect from Willie. He is taping out some rhythm with his free hand and Elizabeth laughs when he almost runs into a short scrawny trombone player, who says hi to her. Connor rushes inside and sees Elizabeth walking out of the drum room without Willie.



"Hey." Connor says as he steps out of the crowd of chattering students.

"Sup." Elizabeth says as she picks up her stuff.

"You never gave me an answer."

"Ya I know." She says fidgeting, "I don't know what to tell you, Connor."

"How about yes."

"I don't think that would be the best option for either of us." She says avoiding his eyes.

"And why not?" Connor asks angrily

"It is complicated." Elizabeth says as Willie walks up behind her with all of his belongings in one hand.

"You ready?" Willie asks Elizabeth as he pulls out the keys of his brand new truck.

"Ya." Elizabeth says as Willie wraps his free hand around her. "See you around Connor."
It is 12:35 and 41 seconds, Connor is left to watch her walk out of the band room with someone else's arm around her. It is after their first competition, the percussion has won first out of the five bands. The band has marched all three songs and blew away the crowd. But Elizabeth was blown away in the opposite direction tonight.
…
It is 7 pm and 21 seconds. Somehow time has passed 10 years in the future. The old high school gym is filled with old and familiar faces. Connor has not seen Elizabeth or Willie since high school graduation. They both left that warm summer and went far away from their little town. Elizabeth left with a broken heart, and Willie always regretted saying good bye. Connor never got another chance with Elizabeth, but he is hoping that time will change his fate. Connor sees Elizabeth from across the room. She is wearing a purple dress and a pair of black heals. She does not talk to anyone, but everyone around her is staring and whispering about her.

"Your hair got longer." Connor says as he walks up to her in his old blue jeans and band shirt.

"You look great!" She says with a warm smile.

"Remember back in high school when you said no?" Connor says unable to take his eyes off of her, because she is perfect. "Why did you say it?"

"That was high school." Elizabeth exclaims. "I was so screwed up; I cared more about how to hit a drum then my life or future."

"Why did you date him?"

"It was easy, and that was what I needed."

"So I am high matinees?"

"No, but you needed someone who could love you and that was not me."

"I wanted you." Connor says only inches away from her face.
It is 7:20 pm and 3 seconds, when Willie walks in. He is wearing a black suite with a dark purple tie. He spots Elizabeth from across the room, and makes his way to her. She turns around and her eyes twinkle brighter then the stars, something Connor could only wish for.

"How was the plane ride?" Willie asks Elizabeth, not even noticing Connor.

"Plane food is terrible." She says with a smile.

"Well I missed you, so don't ever leave again." Willie says as he hugs her.

"It was one week in Florida." She says as she turns her attention to Connor again who is patiently waiting.

"I don't want to lose my babies again." Willie says warmly

"You can't loss us." Elizabeth says. "How have you been Connor?"

"I have been good." Connor says, "I work up in New York on Wall Street.

"That is great, man." Willie says with a small laugh. "I am surprised we have not run into each other at all."

"I just moved up there." Connor says unable to understand why she would never call.

"New York is one of the greatest cities in the world." Elizabeth says, "It is too bad that we have to leave the city."

"Come one Babe, the rest of the drummers are here." Willie says as he sweeps her away from Connor.

"It is really nice to see you again Connor." Elizabeth says as she looks back one last time before walking away.

"You too." Connor says and whispers "I still love you."
It is 7:34 pm and 59 seconds when time has stopped for Connor. He realizes the ring on Elizabeth's left hand, and the little whispers about Elizabeth have finally reached him. He watches the way she laughs, the way he holds her, and the way she is perfect. Hope has shattered everything he knows. He cannot remember the girl he fell in love with at eighteen. She is only a memory that haunts him. The way the sun would set over the football field, the ways they would scream at football games, and the sounds of the past.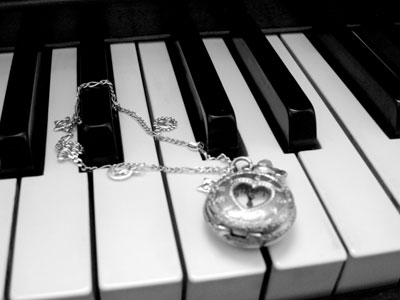 © Emily P., Albany, NY