I love you more...
June 28, 2012
"I love you more than you'll ever know..."
I'm sorry honey, but that can't possibly be true. It should be the other way around. Because I love YOU more than YOU will ever know. Okay, so you might love me. But what exactly does that mean? Do you love me as a sister? Do you love me as a friend? Do you love me as a BEST friend? Do you love me as a person? Do you love me as a person you want to spend the rest of your life with? Or otherwise....are you IN love with me?
Because, for me...it's all of the above. Or so I think.
And the second part of that phrase...."more than you will EVER know..."
Is that really true? If I LOVE you...than will it forever be just something I think? Something I feel? Something that is just a thought...a dream...a fantasy...a wish...a hope. And will it never be something that is reality? Will you walk out of my life without ever knowing how I felt?
And on the flip side......HOW exactly do you love me? Will I ever know how YOU really think? Or how YOU really feel? Will I know your thoughts...your dreams...your fantasies...your wishes...and your hopes? Or will I watch you leave and not know the truth.
There is a thousand questions. And no answers.
But then I remember what you asked me...
"Sara, has it ever crossed your mind that you try to hard?"
It scares me sometimes...to think that somehow you often know me more than I know myself. And that makes me fall deeper and deeper. And then I ask more what if's. More thoughts and feelings come to play.
But then I realize...you are right. I try and I try and I try.
So, what if I just stop trying...and begin trusting.
No more worries. And no more fears.
Because in the end, I KNOW it will turn out for the best.
Whether that means I never see you again....or if you're the only thing I see when I walk down the aisle. Still SO many questions. and no answers. But the answers are ahead, and I just have to wait.
So for now I'll just be content with what I know for sure....
That you love me. No matter what that means exactly, I know you love me.
And I love you. You don't know HOW much I love you. And there's no guaruntee you'll ever know. But at least I can be content with the feeling that I KNOW I love you.
I've never felt that way before. So already I have gained.
"I love you more..."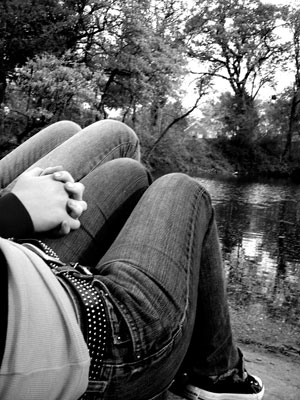 © Lauren R., Edmond, OK