The Novella Cafe
June 23, 2012
I make my way downtown, cating regretful glances all around me. Shops, bright lights, signs, cars, people. Loud noises and harsh smells. I grew up here, and I love everything about it. This is New York City. This is my home.
"Was my home." I mutter to myself.
Nobody looks my way, even though I spoke at normal volume. I look around at all the shops I've passed, all the places I've been, in my nineteen years of living in this beautiful city.
The delightful little cafe that sells my favorite drink, iced raspberry coffee.
The little boutique where I bought my first mini dress.
I wipe my eye with the back of my hand and glance around nervously. Something catches my eye and I stop. A book store.
"That's new..." Turning from the bustling sidewalk, I walk inside. The delightful bell tinkles merrily as the door swings open and the luscious smell of vanilla wafts to my nose. I smile for the first time in weeks and a man emerges from the back.
"Hi there. Can I help you?"
I smile welcomingly "Not just now, thank you. I'd like to browse a little, if that's okay."
He nods, smiling. "Sure. Just let me know if you need anything, alright?"
I smile, nodding, and turn for the shelves of delicious-smelling leather bound books. I run my fingertips lightly along the spines of the old novels, smiling as I remember all the great memories I've ever had with books. Pulling an old copy of "The Grapes of Wrath" from the shelf, I jump. The prettiest blue eyes are peering at me from the other side of the shelf. I blink twice and smile.
"Hi." I murmur.
"Hi."
The eyes dissapear and a man, taller than me, and with pitch black hair, walks around the end of the bookshelf, smiling.
"You know, I used to do that too." I murmur, gently replacing "The Grapes of Wrath" on the shelf.
He holds out his hand. "Tony."
I take it and shake it happily. "Tessa."
He smiles at me and it's the most dazzling thing I've ever seen. I smile back and start to forget about my ex, about my pain, and about leaving New York. This is my home, I decide, and I'll never leave.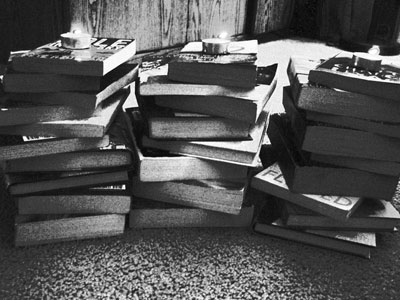 © Alexis R., Clarkdale, AZ