Binding Hope to Fate.
May 23, 2012
There was a knock at the door. She could not believe her husband to be alive after all these years.
She blinked twice to feast her eyes. She could recognise him anywhere.In the dim light from the candles,she chiselled out hid features once more—once more after four long years.She opened the door wider and with the icy blast of the snow,rushed in memories,beautiful ones too of her past.She replayed them in her head as she had for the past four years,and each time it stung her eyes with a stronger pain than the snow.He stepped inside and took her in his arms.A childlike ecstasy(that she presumed to have been buried with her husband's absence) once again enveloped her. And for the first time in years, she smiled.

Peter and Mary were high-school sweethearts.They recognised themselves as the perfect ones for each other and thanked fate for uniting them.Their college days flew by on rosy wings.neither could keep away from the other.Blessed with blisses,they were not ignorant to take each other for granted.Peter basked Mary in the glory of nature and they cherished each moment spend together.they were the most perfect couple in the world. Peter, with his brown eyes and caucasian features and Mary with her blue eyes glistening with mischief entranced each other.
They stepped together into adulthood. The sooner they were able to fend for themselves the quicker occurred their marriage(without the slightest hesitation). Their wedding day was festive.Their parents had thought out a bay as their spot of uniting.As Mary nervously walked down the aisle decorated with white and blue flowers,she looked around for the one face she craved to see. Smiling in a frenzied joy was Peter who waited for her in the far corner.She forgot her surroundings under his keenly promising stare.He took her into his arms, and under His eye,the were united.
Marriage was another ship that they sailed through together.Blessed with two wonderful children,Peter felt he could not ask more from life- life which had given him the angel herself.True they had their misgivings but the patching up at the end multiplied their love to unseen boundaries.But before Peter could live to the fullest,war broke out in his nation.On twenty-third December,Peter was recruited into the army among many others.he wore his uniform in pride but Mary saw shadows of doubt lingering in his sparkling eyes.He spend the whole day with his kids and Mary watched them laugh with a deep sensation she could not quite grasp.At midnight,he hugged his kids and bid them adieu;he engulfed Mary in his arms,brushed off a tear from her eyes and consoled her.Peter masked his fear of them meeting ever again-such was the ghastly impacts of war.But he determinedly whispered in her ear a promise- a promise that he would meet her again.
And so after four long years,Mary once again rested her head on Peter's heart.The children were fast asleep and Peter,dear Peter,masking his weariness took her out.
As she treaded on the snowy paths she heard carols in the distance.Merriment saturated the air.With a jolt she remembered that it was Christmas Eve.She looked up at Peter.He smiled,grasped her hand and like adoloscents they raced past the decorated trees.She could not help but laugh out loud.At midnight, under the stars,Peter explained for his absence.The army had won the war,but he was caught by the enemies.His eyes hardened as he remembered the torture he had been subjected to.But with a grim smile that aged him past his years,he said that he was eternally free from their clutches.From a nearby bush he plucked her a white rose and they walked back home to their kids.
On Christmas morning Mary awoke to the chaos upstairs.She had slept off on the sofa beside the fireplace.She awoke with a promise that today would be a new day- a new day for a brighter future. Determinedly she walked to her children and still smiling reeted them "Merry Christmas".The children looked at her in astonishment.It had been four years since they had seen their Mamma happy.They knew that today would be a special day. "Mamma!", they shouted in joy and hugged her.With full enthusiasm Mary hugged them and kissed them.She had found her reason to live.

As the family reunited,a letter fluttered beside the fireplace.its contents were brief.After four long years,the Army General informed that Peter D'Souza's body was found.The enemy had tortured him to death but Peter died a valiant soldier whom they had decided to reward.
And beside the fluttering letter lay a white rose.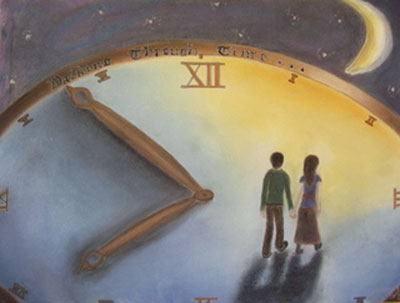 © Carollynn G., Hawthorne, NY