Man Takes One Look at Hot Women and Dies!
May 21, 2012
Fred just wanted to be bold,
be unafraid,
be handsome,
not be sweaty or nervous, or awkward.
But over the years he found he could not change.
He didn't take girls to dinner or drives or go on dates.
Instead he sat at home for 71 years of his life,
Just sitting,
like a scared puppy,
afraid.

And so one day he called up his brother,
And with a brave voice exclaimed, "I am ready to go out an meet a women."
Now most might think it's a little too late in life for an 89 year old to find love,
But in his brother's eyes, better late than never.
"Ok" his brother said.
"We'll go out tomorrow"
With a helpless but hopeful heart,
Fred tried to prepare himself for the big day.
He cleaned his hair,
Washed his face filled with fear,
And tried to practice the lines that at 18 years old,
won over the girl that broke his heart,
and made him afraid.

When he woke up that misty Monday morning,
Fred was unprepared.
Unprepared for the day.
Unprepared for women,
Unprepared for Amber… a beautiful 24-year old women.
He breathes in,
He breathes out,
He breaths his last breath as the heart attack has taken over his overwhelmed, frail body.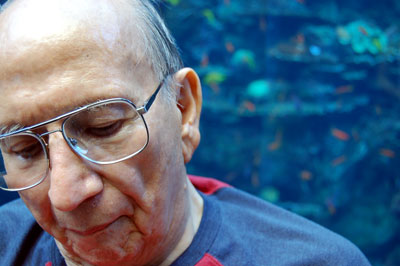 © Missi R., Suwanee, GA