Wild Rice Soup
May 19, 2012
"Anyway, if you kissed me right now, I'd probably taste like wild rice soup," she said lightly.

"But I'm not allowed to kiss you, so it doesn't matter, does it?" he replied immediately without even a trace of bitterness. His stance was the definition of casual: hands in pockets, leaning—lazily, not wearily—against the wall, weight on one foot, other leg bent. It seemed—though this was a carefully crafted illusion—that he didn't care at all what her response would be.

"Well, about that . . ." she began awkwardly, fishing for words.

"Yes?" he prompted. He spoke the word a bit too quickly to maintain the false air of indifference that had, until now, surrounded him. He endeavored to keep his expression neutral, but his eyes widened in irrepressible eagerness.

"I, um . . . I actually . . . really miss you," she admitted slowly, as if hoping to change her own mind. When she found the sentence was finished and she had indeed made the dreaded confession, she bit her lip and rocked forward on her toes, impatient for a response.

He stepped forward, shrinking the gap between them to under two feet. His heavy sigh ruffled the tips of her hair. "What are you proposing?"

She lifted her hand, nearly grazing the front of his shirt, and began pushing at her cuticles with her fingernails, desperately avoiding his gaze. "I don't know."

He stepped back again and returned to his former position, leaning against the wall. This time, though, he looked deflated, not indifferent. "Then why are you here?" His eyes were flat as they stared at the laces of her purple Converse.

"I . . ." She had no answer, and she felt just as deflated as he looked. Her hands fell to her sides and she shrugged helplessly.

"Stop getting my hopes up, and leave," he ordered with uncharacteristic harshness. His aspect had changed from miserable to grim, and he straightened and marched to the door, opening it to let himself into the house and shut her out.

He had stepped over the threshold and was shutting the door when she decided she couldn't take it. "Please!" she cried without knowing what to say next.

"Yes?" he asked in exactly the same tone as he had used to speak the same word earlier. His grip tightened on the door handle; his knuckles whitened. The corners of his mouth inched upward, probably involuntarily, and his eyes found themselves once again riveted on her face.

"Kiss me first?" she suggested—pleaded, really. She rocked forward onto her toes again, this time concerned that she had asked too much. Her eyes traveled to the loose nail in the floorboard before her, and then back to his face, unable to avoid watching his reaction.

"Even though you'll taste like wild rice soup?" he asked jokingly, stepping back onto the porch and closing the door, making it clear he had no intention of returning to the house just yet. The skin by the corners of his eyes crinkled as he said something so light hearted, and she smiled too, thinking that he deserved to be happy after how much the breakup had hurt him.

"Yeah," she breathed, stepping toward him, not sure whether she wanted to come across as bashful or seductive. "Even though." She took another step, and the gap between them was so small—

—that he could close it instantly, taking just half a step toward her and pressing his mouth against hers.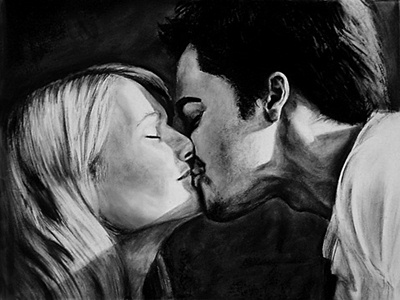 © Lauren R., Marshfield, MA