Annabelle's Wish
March 31, 2012
"You're going to love Eastpoint, Belle." My Grandpa said to me, I just looked out the window.
My parents had shipped me off to live with my Grandpa Luke for the summer, they thought I wanted this. My Grandpa lives in Eastpoint Florida, population 2,471 people. Its a very beautiful place, only if you're visiting for a week not stay for three months.
"Annabelle?" Luke asked. "We're home."

ANNABELLE

Luke's home was...extravagant for such a small town. It was still a smaller home, but big compared to the ones we had passed on the way into town. It was two stories, dark blue-green with lots of windows. It looked like a swamp monster barfed on it.
The lower portion of the house was half the size of the upper half because of a shelter for Luke's black 76' Ford F-100 occupying the lower half. The house looked like an apartment building from a distance.

He pulled into the driveway, cutting the engine. "Welcome home, Belle." Luke said, smiling at me.

I wanted to just get out of the heat and count the minutes until I could go back to Colorado. Where there was more than just summer as a season. I loved the cold and the rain, I loved being able to see my friends when ever I wanted. Why did I ever agree to this?
"So, Bells you get the room over the garage. I cleaned all of my old junk out of it, maybe you can help me take it all to Ms. Mason's shop." Ms. Mason was Luke's "friend." They had dinner together on many occasions and when ever Luke wasn't down at the Bait Shack, he was at Ms. Mason's Antique Emporium. She was an old cat lady who was nice to everyone she'd ever met. She was the grandmother I never had.
"Yeah, sure." I said halfheartedly, grabbing one of the suitcases out of the bed of the truck.
"Come on, Annabelle. Living with me wont be that bad." Luke said, patting my shoulder as he walked me into the house.
"I know, its just don't really want to spend my summer..." I was going to say with him, "With people I haven't seen in over eight years."
"I'm not gonna let you sulk around like an old coot because you miss your old pals, if that's what you mean." He said, helping me lug my four large bags up the stairs.
"No, its not that. I'm not the best when it comes to meeting new people." I stuttered to him, hoping he'd just leave me be.
"I know just how to fix that! You can work with me down at the Shack! I'll even pay you." He said, dropping my bags inside my new bedroom.
I just sat down on the sad little bed and looked around like a lost puppy.
"Well, I'll leave you be to settle," Luke said, about to close the door. "Be ready to go out in a half hour, okay?"

My new room was modern, in a way. It was painted a blueish-green color, the support beams in the ceiling were completely exposed giving it the modern feel. The bed had four dark wooden posts sticking up from each corner and the sheets were a pure white.
A desk that matched the bed sat on the opposite wall, near the window that over looked the beach.
At least h*ll had curb appeal.

"I'm ready to go, Luke." I said as I stuffed my hands into the pockets of my basketball shorts.
I hadn't done much of unpacking in my room, I mostly stuffed some stuff in the closet, found the clothes I felt most comfortable in and called it good. I only needed my black shorts, red baseball sleeves, my high tops and I was set. They were my favorite things to wear. Wearing that particular ensemble made me feel at home.
"Hope you don't mind, but I need to swing by the Shack on the way to Ms. Mason's." The Shack was the bait shop that Luke owned, the best one in town. Or so he said.
"No," I sucked in a deep breath. "Do you mind if I stay here? I'm really tired from the flight."
"I want you to go, kiddo. All of the boys haven't seen you since you were ten years old, for pete's sake!" He grabbed his keys and propped open the front door. "Go, Annabelle."
I grumbled and walked through the door to the truck, standing my the passenger door and waited for Luke to come unlock it.
"It wont be that bad." Luke mused as he unlocked my door. Yes, it will be. I thought to myself.
I hate being the center of attention, in any way. And the whole, "Oh you're so big!" and "Oh you're so pretty!" nonsense gets old fast. Yeah, I get it. Last time you saw me, I was a ten year old little girl with pigtails. Cool story, bro.

We drove in silence to the Shack, Luke picking up on the hint that I didn't like it here. When we got there, the sun was setting over the water and the customers were dwindling inside the shop.
Luke walked inside his shop, a bell dinging when he pushed open the glass door. Only a few people left, no one at the front desk.
"I'll be right back." Luke patted my shoulder then walked into the back room, waving to the patrons mingled in the aisles.
I jumped up to sit on the front counter next to the register and let out a sigh. This place seemed old when I was younger, now its prehistoric. The faded white paint looked almost yellow, the blue shelves were flaking with old paint and used wood. Some flyer's for community events sat by the register, most of them out dated.

"Can I help you?"

TRENT

Only twenty more minutes. I thought to myself.
I'd been working at the Shack all day in the sweltering heat, I was ready to go home and take a cold shower then sleep. I was counting the seconds until I could get in my truck and drive away from this place for the weekend.

I walked out of the back room carrying my backpack, ready to leave, when I spotted a girl sitting on the counter.
She had long, dark brown hair that was up in a high ponytail and she was wearing old baseball sleeves and shorts. Her hands were behind her back, her nails were painted a dark purple. She had one bracelet on her left arm, a red braided one with beads in it. From the back she looked pretty hot.
"Can I help you?" I asked her, setting my pack down behind the counter.
She turned to look at me, her bright green eyes piercing mine. She was hot. Dark lashes shaded her big green eyes, a little band of freckles splayed out over her nose and her pink lips were perfectly formed. She looked like a carving of a goddess.
"No, I'm just waiting for Luke." How'd she know Luke? "Do you work here?" She asked me. I was caught in the sound of her voice. It was beautiful, like a song that you'd get stuck in your head and never forget.
"Uh, yeah. I work here." Smooth move, Trent.
"Oh, cool. I guess I'll be working here too. Luke is giving me a job." She's working here?!? "I'm Annabelle." She extended one of her hands to me and I carefully shook it. Her skin was soft like silk, really awesome silk.
"Trent Montez." I stammered to her, slowly pulling back my hand.
Luke walked in from the back room, laughing at something one of my co-workers had said.
"Ready to head out, Annie?" Luke called to her, patting my shoulder. "You two meet?" He asked, looking to me then to Annabelle.
"Yeah, I guess." I said, picking up my backpack.
"Well, Annie, this is Trent Montez. He's one of my finest workers." Luke winked at me. "Trent, this is my granddaughter, Annabelle Fischer. She's staying with me for the summer."
"Nice to meet you." She said to me, smiling a perfect smile as bright as the sun.
"You too." I said, slinging my pack onto my shoulders.
"Well, lets be headin' out Belle. See you Monday, Trent." Luke held her hand as she jumped down from the counter. I looked down at her white converse, they were covered in signatures. Probably her friends from when she left from where ever she's from.
"Nice kicks." I said, trying not to sound like a moron.
"Thanks." She smiled at me again, making me smile back at her.
"Good work today, son." Luke clapped me on the shoulder as he walked out of the store, Annabelle trailing behind him.
"Bye." She turned and called to me, propping the door with one hand.
I waved to her as she left, walking towards Luke's truck.
I watched Luke's truck start then turn out of the lot before I bolted for my own truck, my cell phone in my hand.
I punched out a message to my best friend Jason, telling him to meet me at my house in ten minutes.
Jeez, don't get your panties in a twist. I'll be there. He replied.
I smiled down at my phone before flinging it across the seat and cranking the engine to life. I pressed down on the gas and made a mad dash for my house.

Ten minutes later I pulled up in front of my house, Jason was sitting on the front porch.
"What in the h*ll is your problem!?" Jason called to me as I slammed the door to my truck. "You called me down here, what do you want?" I ran up to him, slipping behind him to open the front door of the house.
"You'll see."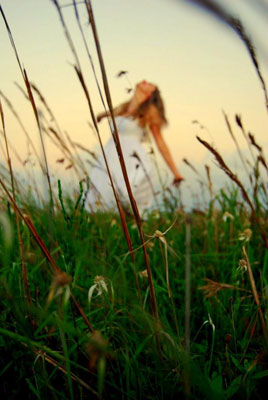 © Richard F., League City, TX