Infinite Key
March 29, 2012
The sun was setting down behind the far away mountains, the grass was green underneath me. I look at Alex tomb. My eyes got teary again, just seeing his name makes me cry. Alex Richards, it read the tomb, lovable son, great brother and cancer fighter.
Alex and I started dating in our summer break after freshman year, we were in some classes together and we got along but we weren't friends until my best friend started to date his best friend and we were both ask to tag along on dates because there parents didn't allow them to be alone. To be honest those times we had to accompany I did look at Alex but honestly what girl wouldn't, he had black hair that fell just above his hazel eyes, he had tanned skin and a muscular body, he was smart and respectful. My friendship with Alex bloomed that summer, we called each other a lot and texted each other a lot and eventually he asked me out.
I can honestly say that, that was the best summer of my life. I was helping out in my aunt's party shop and sometimes after my shift, he went to the store and we walked down to the beach that was close by. On our way there we always bought hot dogs, hamburgers and ice cream from a little dinner that was close by, his favorite ice cream cookies and cream with fudge on top. After asking Bill, the dinner's owner, for our food to go, we went to the beach and we ate and talk for hours.
When school started nobody belived that we were dating since he was a popular jock and I was well not as popular as him, I hated myself for putting him trough such a hard time at school but he only shook his head at me and told me that he loved me. That was the first time he said he loved me, I will never forget it.
After Christmas he got really sick, he was always in pain, his tanned skin turned pale and his beautiful eyes didn't sparkle anymore. His parents took him to the doctor, his doctor made him take all this test to see what was wrong with him. After what seemed like ages he called me saying he had bad news that I should come over his house. I didn't know what to expect, when the door to his house opened his mother was standing before me, Mrs. Richards was a great looking woman she was tall, with light brown hair and his sons eyes, but looking at her she looked tired, sad and like she had aged ten years. When she saw it was me she hugged me and let me in. I walked to the living room where Alex was sitting with a blanket on top of him, he look even paler than before.
Alex motioned me to sit next to him, when I sat next to him he pulled the blanket over me and rested his head on my shoulder.
"You ok? What's wrong?" I asked him.
He took a deep breath and looked at me straight in the eyes. "Do you love me?" he asked.
"You know I do, with all my being and my heart." I answered looking at him.
"Your heart is part of your being you silly girl." He said touching my nose.
"What's wrong? There's something you're not telling me." I said.
"Vesper, I have Pancreatic Cancer." He said. I felt as though the world might end, I couldn't hear, I couldn't breathe, I went numb.
"Vesper? Vesper! Breathe" he said shacking me. I started to cry. I couldn't help it.
Alex held me in his arms and kissed my head.
"What are you going to do?" I asked.
"I'm going to fight. And I'm going to win for you."
Alex died two months after that. The last time I saw him he was in the hospital, his parents paid for a single room, he gave me a beautiful wooden box. It was locked and Alex found hilarious how much I struggle to open it that was the last time I heard his laugh. He told me to visit him the next day and that he would give me clues to open it. He said that there was something important inside.
After he died I got depressed, sad and even suicidal. My friends and family were worried sick but didn't care. After a month or so his mother called me saying she had something to give me. I went to the house, when his mother greeted me she looked like she had aged ten more years. We talked about how we missed him, she told me that she had heard that I tried to kill myself and she told me that Alex wouldn't have wanted that for me, he wanted me to be happy. She told me how guilty Alex was feeling because he thought he was ruining my life. Mrs. Richards told me that Alex had left me something, and we walked to his room. His room was the same it looked as if he still lived there. She walked to his desk and grabbed a binder. It had a collage of pictures of us, I couldn't help but cry.
Inside the binder were pictures of us, but there were also hints and clues to find something it didn't said what it was. I went everywhere the clues told me, they led me to the place of our first date, our favorite restaurant, he left me money to buy our favorite meal, Chicken Parsalla, and finally to Billys Dinner there he told me to sit in our favorite booth, he asked me to buy ice cream to any elderly that was alone, because whe always felt so bad for them.
When I sat down Billy came and gave me cookies and cream ice cream with chocolate fudge on top he said it was on the house and that it was called the The Upside Down Alex, my eyes got teary when I heard it. When I looked to my left I saw an elderly man sitting alone on a booth, my heart fell, this was defenetly destiny. I took the ice cream and offered it to the elderly man, he accepted it. His name was John Brennan, he was a retired heart doctor. He told me about his life and he told me about his wife, she died a couple of years back and he missed her every single day but he realize that she would have never wanted him to live on the pass. She always encouraged him to travel, because they both loved it. He told me that things would be ok and
that I had to go on with my life but to never forget him. Every Thursday I go to Billy's Dinner and I meet up with John.
The last thing on the binder said to go to the beach with the box he gave me, our spot on the beach that was next to some rocks and palm trees. I sat down there, in our spot, I haven't been back on this beach since he got sick and I had no intention until now. The binder said to push one of the rocks out of the way and there I would find something special. I spent some time moving some rocks around and found a small box. I opened it inside was a small key. The key was beautiful, it was gold with swirls. I took the key and tried to open the box, to my surprise it opened easily.
My heart was in my ears, I opened the box to find a letter from him that said that he loved me more than anything, he was sorry for putting me through something so awful, if he died he wanted me to be happy and to go on with my life but that he will always be there with me every tear, every hard moment and every happy moment just like I was there with him. My eyes were so teary I couldn't even read properly.
Inside the box was the movie of A walk to Remember our favorite movie after he got cancer we watched it all the time. There was a ring he made himself out of metal and it had the infinity sign on it, he said our love was infinite. There was also a CD with our favorite songs.
Tears ran down my cheeks and I could hardly breathe, I knew then that Alex would never leave me and sitting on that beach wearing the ring he made for me and holding that magical key, I finally felt at peace.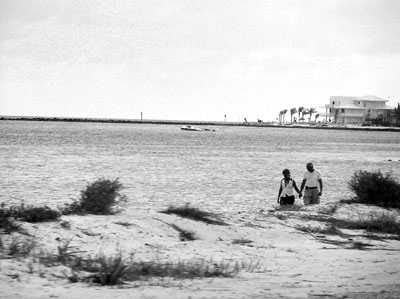 © Edgard B., Coral Springs, FL