The Miracle
September 23, 2011
I never imagined myself standing here. I felt like I was in the middle of no where, not knowing where to go. Which is true though I do not know where to go from here. This graveyard full of people who once lived and breathe now must rest in peace under layers of lies, moment, and regrets. Standing here in this cemetery I felt buried, being pushed down by my own regrets and lies.

"Alec?"

I turn to see a face I will never forget no matter what. Angela. She has saved from myself for a long time and I promised her once she left that I would never end up here. Seeing her brought so many emotions to the surface. Love, Joy, Pain, Happiness, sadness, everything you could possibly imagine. All those emotions start to build and one by one come out as tears streaming down my face.
She rushes over gripping me tight in a hug. Yeah this was Angela, the same goofy girl I once knew. Before she left to go be with her mom, she wore her hair in a ponytail and no makeup at all. Her eyes now gleam with heavy makeup and her hair flows against her body. Her curls move like waterfalls with every little motion her body makes. Her old Shirts and baggy jeans are replaced with skinny jeans and fancy blouses. For a minute I thought I had shrunk, but I realize she is wearing heels instead of her flip flops.
She pulls back and stares at me, looking for something. Anything that show any sign of what I am thinking. She brushes one of my tears away and takes a step back. She gazes at her shoes and I take her in once again. She has change so much over three months, but my eyes only saw my best friend.

"You know," she said still looking down, "When I got the call I thought it was you."

She looks up, the tears starting to form. "How did you know it was not me?" I question my voice cracks.

"Cause, I knew you would keep your promise."

I turn away and look at the grave, I hear her come behind me and gives my shoulder a little squeeze, "Your dad was a great man, like you."

"I am not like my father, my father never gave up."

"And you did?" she questions.

I turn and look at her, "Of course I did. Do you not remember the day I tried to kill myself."

She flinches, bringing back those memories was still an open wound for both of us, but at this moment I take the pain in with pleasure.

"Do you remember the day I almost died," she said, "my dad beat me everyday. I could not take it anymore."

I think back know remembering what happened almost six months. When I had cuts on my wrists marking everyday I was bullied and pushed around. I was tired of being different, I needed to take myself of the picture so I would not be different. I remember getting off the bus heading to that bridge when I bumped into a girl who had a thing for books. I can clearly remember her pulling me back on the bus and taking me to a place I never dreamed of, a place where I was safe. No matter what group in school she was in she stood by my side through thick and thin. I also remember a dark stormy night, and running through the cold rain to find that same girl one step away from falling into a watery grave because she was done being a punching bag. After we found her moms location and Angela got everything to leave I promised her I would never leave this Earth unless I was a 108 years old and was too weak to take another breath. As the memories fade, I focus on her again and see how shes crying now. I brush one of her tears away and a small smile crosses her face.

"Remember the day we looked up our names and yours meant a messenger from God?"

She gave me a weird look, "Yeah, but I do not see where your going with this."

"You were sent to me, to save me and to help me. I have never felt better about myself. When you walked into my world you saved it from being destroyed. You have saved me." I told her looking at her for a response.
She stares at me and then walks around me looking out toward the sky, searching for something that seemed impossible to find.

"No, your wrong," she whispers, her back still to me.

I was puzzled by her answer and then she turns around and looks at me with her brown eyes and I could look away now, I had to listen to her.

She moves closer, with the same intense stare and clam body language,

"Alec, you have saved me," she whispers and a beautiful smile comes across her face.

She grabs me into a hug and I never want to leaver her arms. I never want things to change.

"Your my miracle, Alec," she whispers and I can feel the tears coming down her face.

For once what seemed like a graveyard full of regret, was now a place full of hope.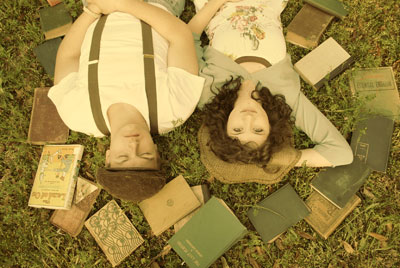 © Gabrielle A., Pensacola, FL