Bittersweet
July 1, 2011
She was beautiful. But she was bitter.
Adrian knew this about herself, knew that her face was perfect. Her skin was pale, close to white, and her hair was a deep chestnut brown. Her eyes were round and clever. Her lips were full and red.
Adrian was still tired from the last photo shoot, almost two months ago. She had had to lose three pounds to fit into the clothes, all size zero. The cameras flashing had made her eyes tired and red, and no amount of make-up could hide her exhaustion. Sam was nowhere to be found.
She was glad that she had been born with these looks. Her mother was a pageant queen, and so her stellar features came from her. But her father, who she had never met, had given Adrian her coloring, the coloring that had given her this apartment, these clothes, this life.
Her money came from her looks. Just like Sam had used her for her looks, so did Prada and Coach and Louis Vuitton. They gave her money because of her face, her long legs and ample chest. They didn't look beyond her looks.

Sam had been at the shoot. The first one Adrian had ever been at. He was there, the coffee boy.
"Can I get you anything?" He had asked her.
This had been a small company, Afterwards, and she had been their only model. Now, the high budget studios with models like Kate Moss and Gisele Bundchen made it look like nothing.
"No, thank you. I'm trying to go off caffeine." Adrian had said. It wasn't true. She was trying to go off food in general.
"We've got decaf. And pastries." Sam pointed out.
"Maybe some water?"
"You'd pass up a free pastry? God, they must be paying you more than they're paying me."
Adrian laughed tensely as Sam filed a glass of water and gave it to her. He was the first person who had spoken to her like she was more than a machine all day.
"So, how many times have you done this before?" Sam asked, grabbing a doughnut. He was thin and wiry, attractive in the exact opposite way that Adrian was--he had blonde hair, blue eyes, and a pleasant smile.
"This is my first time," Adrian told him.
"That's what I thought."
Did she really look that inexperienced? Adrian wondered. As if reading her mind, Sam amended, "Afterthought likes first-time models. Or, at least that's all they can afford. But people go far. Afterthought is a good start. I'm sorry, I didn't mean to offend you."
Adrian shook her head, her heart beating. "You didn't."
"Look, I know this isn't my place, and you're way out of my league, but would you like to get dinner sometime?"
Adrian was taken aback, but happy. "I would--yes. I would."
Sam smiled. "Meet me at 17West, okay? It's a bar on 17 West Second street."
Adrian nodded.

That night had been wonderful. At the end, she had gone back to Sam's cramped apartment on the lower east side of New York City. They had kissed there, soft like feathers, bittersweet like dark chocolate.
The next day, they had gone out again, and again.
Adrian learned that Sam was a photographer. He showed her some of his work, which was truly wonderful; she had told him so. He had taken a few photographs of her. They sent them to all the major magazines, laughing. A month later, they heard back from Pose, a small, independent fashion magazine with a reputation for discovering the next big model. They wanted Adrian, and they wanted Sam to do the photos. Both said yes.

Three years later, Adrian sat in her apartment, overlooking New York City, waiting for Sam to come home. She and Sam had risen to fame together, going from Pose to Vogue and Elle. He had become In Style's top photographer; she had been on the cover of Sports Illustrated Swimsuit issue. They had moved in together.
Then, one night, three weeks after her twenty-fourth birthday, Sam came home late. He had been doing a shoot for brides.
He didn't say a word, just came in and began to pack his things. "What are you doing?" Adrian had asked.
"Packing." Sam had responded.
"Are you going somewhere?" Sam often had to leave for photo shoots in other, foreign countries.
"Yes." Sam had said. "Daya McGreene's apartment."
Adrian looked at him, confused.
"I met somebody else." Daya McGreene was hardly somebody else. She was Adrian but younger, eighteen and beautiful. She was tan and blonde and blue-eyed, just like Sam.
"You're leaving me?" Adrian's voice was calm. Not because she was calm, but because her heart was shriveling up and dying.
"Yes." Sam walked out the door without another word.

Now, Adrian sobbed. It was a year ago. But the split had been very, very publicized, and Adrian was no longer is demand for photo shoots, no longer considered an incredibly beautiful person.
There was a knock on the door. "Adrian." It was Sam.
Adrian couldn't speak. Finally, when she regained words, she managed to say, "How's Daya?"
Sam laughed harshly. "Crushed. I left her. I want you, Adrian. I should never have left you."
"You traded me in for a younger model." Adrian said sharply. There was no pun intended, but model was used in so many ways, it was hard to escape them.
"I was wrong to. I'm sorry." Sam said. He leaned in to kiss her.
Adrian kissed him back, and then kissed him again. His lips felt wrong. Gone was the softness of feathers, the bittersweet of chocolate. Instead, there was a dark taste, slimy and cold.
"So you'll take me back?" Sam asked.
Four years after the day they had first met, a year after he had left her, he wanted to come back. Adrian had missed him. She did not answer.
"You'll take me back?" Sam asked again.
"No," Adrian said.
She closed the door behind him, tears of joy and sadness and anger running down her face.
She was beautiful. She was bittersweet.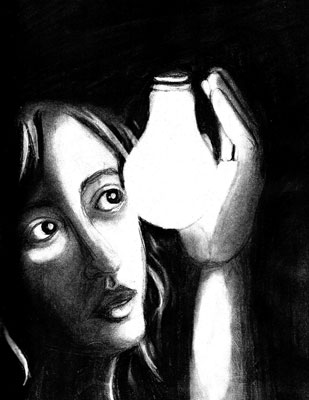 © Jessica P., Bethel Park, PA