The World As We Know It - Chapter One
June 18, 2011
The love I once had for him was undeniably true. The hate and frustration between our conversations was unbearable. Although he was blind folded from the weaknesses between us, I loved him for who he was when he was in his right sense of mind, but theworst part about having emotion so strong for somebody who threw away two years of your life, is that even though you were fully committed, you still pull out heartbroken.

We all have demons raging within us. We see it everyday. Banks getting robbed, innocent people getting killed, and even children being kidnapped didn't seem to bring that much attention to the fact that we aren't all who we seem to be. I held an obligation to fulfill my mission in life; to give into one's needs, as if they were my own. That was until I met Christian Joshua Brown.

Everybody knew that we had a thing for each other, except for us. To them it was obvious; a new girl and the star quarterback of the football team. To us, it was just another dangerous creature lurking in the shadows. It seemed humiliating, but I felt different; I thought I loved him. If only I knew then, what I knew now. I could sense his tension when we passed each other; was it a loving tension, or a hateful tension, though? I could also see his eyes brighten when he heard people call out "Steph," short for Stephanie Lynn Daughtry, my name.

Only days after I moved here, the bond between us slowly began to form. It started with lunch on my third day of Listeria High School; I was sitting with my girl Anna'Marie, when a couple of guys I had seen around school came over and started talking about a party. Me, being the new girl, was one of the first invites... and Christian was the host. After a few moments of hesitation, I told them yes, and left the cafeteria without another word to anyone.

As the moon cast over, he and I talked for hours on the phone of nothing important other than to get to know each other. I found out he is 17; so am I. I also found out that he likes me... which is kind of obvious. So, being polite, I agreed to go on a date with him, which is where the trouble began.

As I was getting dressed, I felt something brush against my neck. Startled, I whipped around; nothing was there. After a few minutes of examining all of the empty spaces and corners in my room, I figured it was just paranoia.

At seven-thirty he pulled up, as he had promised. That's when I thought that this might not be so bad after all. After for what seemed like an eternity, he got out and came to the porch. I checked in the mirror one last time before opening the door to find him standing with a red rose. I thought to myself 'How did I miss that when I saw him through my window?' After I realized that he was waiting for a response, I still couldn't find the words to thank him. So, I guess I could say that I was, for the first time in my life, I was speechless.

As I looked up, he grabbed my hand, gently, and gestured towards the car. We rode in silence; until I remembered that I didn't know where we were going. As our conversation grew, so did our bond. Before I knew it, the clock had already struck nine-forty-five.

When we got back from the restaurant, he kissed me softly on my cheek, and I watched him walk to his car, and drive off. Once again, I was left speechless.

Standing on my front porch, I thought I could hear something in the leaves or bushes around the corner of my house. Spooked, I turned to go inside with no intentions of looking back, but for some odd reason, I was drawn towards the rustling. I slowly made an effort to find the origin of the noise.

Three steps off of the porch, and the noise was getting slightly louder. So was my heartbeat. As I was approaching, thoughts kept flashing through my mind of what it may be. Could it be a dog? A cat? Maybe a person? Now I was only about two steps away from the bush that the sound was coming from, and my heart felt like it was going to pound right out of my chest. Then, all of a sudden, the noise stopped. It must have just been a stray animal of some sort. As I turned around, a figure flashed by. With almost no lighting, I couldn't tell what it was. I was too stunned to move. Maybe I was just paranoid again. Maybe not. Hopefully, I was, but most likely, luck wasn't on my side tonight.

As I tried to hurry inside, something grabbed me from behind. Then I realized three things. First, the noise in the bushes was indeed a person; second, the terror that was in my hands had only begun; third, even though Christian drove down the street, he never left my house.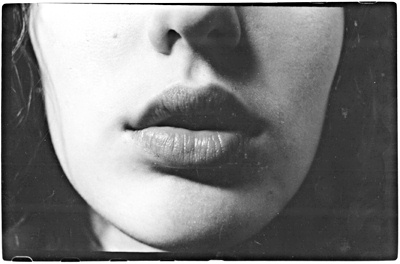 © Samantha A., Southbury, CT