Tests of Love
May 30, 2011
Have you heard the saying that true love only exists in fairy tales? Now I know I'm still, really young in the prospect of things. But as I grow, and experience love and life it seems to hold up pretty true. Call me naive, or a young fool in love but I thought I had a good perspective on it. That's why I came to the conclusion that true love does exist, but you've got to work for it. I've learned that life always has to throw you curve balls in the course of it, forcing you to make decisions as to how to amend and repair this or that between a couple. I suppose this is where the problem comes in, the girl I've been dating just shy of two years is moving away.
This seems like a good time for me to start from the beginning of the story. I could skip all of this, but I feel like this part is a way of helping me re-live it, while giving more depth to the problem of the story. Well the story begins in middle school, it begins at Lincoln Middle school to clarify. It was near the end of my middle school career, when I noticed Natalie outside at recess. Now, I was never really one to get swept up in all of the girls, but there was something about her. Any who, as fate would have it she started going out with one of my friends, so I began to see her more and more. But it killed me, one for the obvious fact, and secondly because he treated her poorly. As time went on they soon broke up, but me and her started to talk more and more like foolish, lovestruck little kids. Getting all excited when the other would log onto their instant messenger, or me pretending to be interested in Desperate Housewives as an excuse to talk to her for that extra hour every Sunday. Yet neither of us would admit it, and this pretty trivial chit chatter would continue to high school.
As the rest of middle school and the summer came and by I became more enthralled by her as each day passed. Unfortunately, summer came to a close and our high school days were beginning. With high school at Maine South, came a lot of new faces. That is when I decided I should finally ask her out, before one of the other new faces come along. So that's why within the first couple of weeks, I asked her to meet me at the park and I thought I'd give it a shot, even though one of her friends told me not to, and that she didn't like me anymore. Regardless I met her there anyways, and we sat on the guard rails of Roosevelt. I remember, awkwardly asking her if she wanted to go out. The way she took her breath after I asked that, I knew what the answer was. The worst part was waiting, trying to figure out why, what was it that happened between us? Just going through turmoil, waiting for that melancholy, yet crushing no. As I later found out why; Natalie had feelings for someone else.
This pained me deeply, but I decided the best way to cope is to move on and that's what I would do within the on coming months. I met this new girl at a surprise birthday party for a friend of ours. I thought I would finally be able to move on. Let's not go off on a tangent here, but we went out for a while, and she made me realize how great Natalie was to me.
While, Freshmen year came and went like a blur, so did the summer. But late one evening when me and my friends were all hanging out in one of my friend's garage. I saw the girl of my dreams who had crushed me, an ex girlfriend, and two of their friends show up. So, I decided to go for a walk and clear my head. I guess, Natalie saw me walk off, and decided to join me. When we started talking again, it was like Freshmen year never happened and it felt like we were back in eighth grade. Eventually, we decided to head back, and even if you tried you couldn't wipe the smiles and joy we had on our faces that night.
Soon, after that night I asked Natalie to meet me at Lincoln on the bleachers, I don't think I'll ever forget that moment. Looking out across the field, and how the glow of the sun in the sky made the only tree cast its shadow. There was just something surreal about it. Then to complete the moment I decided to ask her out again. Telling her I think I'll give this one more try, and asked her out. This time it went a little different, her sunny face brightened as she said yes.
I'm going to pause the fast forwarded version of the story here, and jump a head a little bit because I don't really want to bore you with every little detail. I'm going to sum the relationship up, life went on things were great, we had our problems here or there, but it never dampened our relationship. A couple months ago we even said how it was weird because we couldn't really see this ending. This is where the problem that I fore mentioned comes into play.
Things between us were carrying on like always, when one night she texted me out of nowhere saying, "There's a chance that I might move to North Carolina, for my mom's work. If she gets chosen, she says the offer is too good to pass up.." So of course, I stayed optimistic about this, even though somewhere deep down inside of me, I knew the answer from the start. I just refused to believe it. We tried to ignore the problem. It didn't work, it just kept eating us, especially in the beginning for me. I felt like what's the point of trying anymore if she's just gonna leave, and I just kept imagining what life would be like without her, and all the things she, no all the things we'd miss out on together. All we could do was wait. Wait for answers, wait for that chance, and wait for life to continue normally.
Time passed, we were trying to make the most of our time, hanging out a lot more, each of us just secretly trying to savor every moment. All these great moments together, even the sheer happiness of cuddling, while watching a movie. Just being together. My mind had started to draw the conclusion that it was a joke, and that she wasn't really moving. As the days flew by, her mom came home from work one day, and informed her that she was moving to North Carolina at the end of the summer or earlier if the house sells. Hearing that I seemed to feel nothing, it was just such a surreal blow, it couldn't be possible, it wasn't happening I kept saying in my head.
But alas the reality of it finally hit home sometime in April of this year. Maybe, because her house was re-painted, and everything was in boxes. No, it was her room that did it. Seeing, the bland beige color and the new organization, I felt like part of her was already leaving, as Natalie's personality was first being taken away from her home. Which then made me realize, we've got to talk, decide what are we going to do. After much talk about it, we decided that we were going to rough it out. We figured it's only a year and that we'll still be able to see each other at various points through out it, such as breaks or vacation. I know it's going to be one b**** of a year, but it will also offer a lot of new insights and maybe it isn't the worst thing, since it'll give insight to college days. That is the conclusion I drew in my mind, and I feel she is somewhere close to that in hers.
In the end, looking back on it and looking ahead on the new decisions to make, I've got no idea how this is going to effect and alter my life and to what degree. But one thing I do know, is that no matter what is that she'll always have a lasting impact on me. Also that even if we drift apart, I'll still know that we had all those memories together, and she'll have one thing no one can take away from her. She was the first girl I could honestly say I loved. That's why I feel love through this curve ball, to test and see if our relationship can hold up to the tests of true love.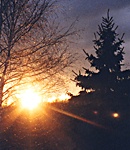 © Christy S., Germantown, NY