Going Home
June 5, 2011
With trembling fingers, she dialed the number. 371-***-9222, it was about nine in the evening where she was calling, but she didn't care. It was the call that had to be made. She gripped the pay phone tightly, hoping her mother would pick-up.

"Mama." She said when her mother's slow breathing could be heard. Her voice was strained, scared. "I'm so sorry but something happened and I left the apartment. I'm just so scared."

"What's wrong baby?"

"He… he hit me."

"Oh honey." Her mother cooed. "Come home baby. You need to come home."

Those were the words she needed to her.

"There's something I have to do first." Her mind was flooded with memories.

"Lisa," her mother's voice got serious, "be careful."

"I'll be home soon Mama. I love you." Lisa quickly hung up and dialed a cab.

It was a long cab ride to Manhattan, but the memories the radio brought on, kept Lisa company. She was going to see Dylan.
Dylan.
I want to rock with you. All night.
Suddenly, Lisa was back in their small kitchen, while Dylan baked bread, and she made a salad.

"I want to rock with you. Allll niiight." Dylan sang off key. Lisa smiled, happy to just be in the same room as him. He moved behind her, placing his hands on her hips. He swayed to the music. He placed his chin on her shoulder. "You smell good." She blushed. It amazed her that he could still make her blush. He turned her around, placing a hand on her hip, holding her other one. "Will you dance with me sweetness?"

"I would love to sugar."
The beeping horns from around the vehicle awoke her from her nostalgia.

"Excuse me, how much longer will this be?" Lisa leaned forward, her nerves beginning to get the better of her.

"I dunno ma'am. Looks like an hour or so. If you don't mind me askin' what happened to your face?" the woman's voice was low and raspy.

"…I decided to live with the wrong man. That's what happened. But I'm going to see the right man now."

"Ah, me and my husband, we been together for about 25 years now. He's my best friend."

"Wow. How did you two meet?"

"We meet at the post office. I left my purse and he brought it out to me. A real gentlemen." She smiled, remembering the time. "How did you and your boy meet?"

Lisa closed her eyes, and she pictured the tree, the water, his gorgeous eyes.

Lisa had been sitting by a tree in the park. Her feet were tucked up beneath her. She was wearing a dress, she almost never wore a dress. Her sandals were about a couple feet away, but she wasn't worried. Her book held her attention too much. She didn't notice a tall figure approaching, and large dark dog running up to her. The dog leapt up and lapped her face.

"Oh hey there boy." She scratched the dogs head, "you're a good boy aren't you?"

"Sorry about that. It's not my dog." Said the tall figure. Lisa looked up, and saw a pair dazzling blue eyes stare back at her.

"It's fine. I like dogs."

"Prancer. NO!" The dog had taken off, carrying Lisa's shoes in his mouth. Lisa and the boy took off running after him. Just as they were about to reach the dog, Lisa tripped reaching out for support. She and the tall boy fell towards the earth. She landed flat onto her back, while the boy lay on top. "I'm Dylan." He said, smiling.

"I'm Lisa."

"Well, Lisa, I think you just made me fall for you."

Lisa laughed at the cheesy line.

"I'm pretty sure you owe me a new pair of shoes."

"Haha. I guess I do."


"We went out to dinner that night." Lisa told the cab driver. "It was the best date I've ever had."
"That sounds a bit like a fairytale ma'am."

Lisa smiled to herself, as the traffic began to flow.


Lisa opened the gate slowly. It was old and creaky. She shivered. She hadn't brought a jacket, she hadn't brought anything. She walked for awhile, before coming to what she was looking for.


Dylan Andrew Smith
May 17 1990 – August 11 2010


She sank to her knees at his grave. Her tears ran down her injured cheek. It was soothing, comforting even. Her chest heaved as she tried to contain herself.

"I loved you. I loved you even more than you know. You were the one thing that made me feel good. I don't want to live without you." She cried harder. She placed both hands on the gravestone, and used it for support. She rested her cheek on the cool stone. Her tears making a small puddle. "I can't breathe when you're not here. It's like… it's like something ripped my heart out and buried it with you." She sat up, and slowly rocked herself. "I went back to him. Even though I knew that he was bad news. I went back." She wiped her nose on her sleeve.

She then remembered the funeral, where she refused to let them bury him in the ground. She was yelling and screaming, not wanting to let him go. Lisa lay by the grave, still refusing to let him go. Her heart beat in her ears, as if the earth was pounding. Until, finally, the pounding stopped.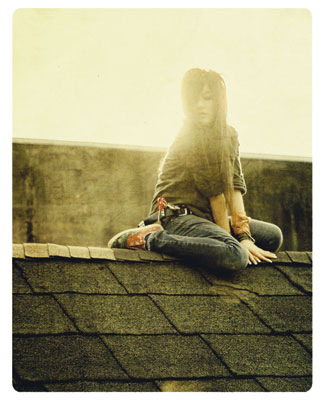 © Hailey J., Lake Oswego, OR