Strong As Fire
May 21, 2011
I was at a campfire tonight, roasting marshmallows and laughing with friends, but if you had been there, you would have known something was wrong. My laugh wasn't as real, my smile wasn't as bright, and I was trying not to cry.

If you were there, you would have known that my heart is so broken and life has turned dull for me. I don't care to talk to people, I don't care to sing, and nothing interests me. I just do it all to keep my sanity. If you were there you would have looked into my eyes and asked me if I was ok. I would have said yes, but then my tears would have fallen onto my cheeks like they did ten months ago when I last saw your face.

You would have asked me what's wrong and I'd have said, "I thought he was the one. I just don't understand why it happened. I know you're in the same place as me, and it's horrible. My heart feels like someone slammed a hammer into it, over and over again. He told me so many lies and I believed every one of them. How could I have been so naïve? Everything that he is saying now is stuck in my head. He says that I'm worthless, stupid. I believe him.

The tears keep coming and coming. Every day I wake up thinking that I'm strong enough to let God take control over my emotions, but every day, my thoughts go back to him and I lie here broken. Sometimes I hate him so much, I wish he were dead. Other times, I still love him. I am just tired of the pain and tired of the tears. I want to be myself again. I want to have a desire to live. I want to be loved, cherished and held like I was the most prized possession in the world.

I want to be precious to someone. He pinky promised me that he would never leave, but then he left. He left me by myself, used and abandoned. All of his promises faded while his rumors spread. I never thought I would be in this place. I thought it was love. I know love isn't real, but I used to think it was."

My head would have been buried in your chest and you would have been stroking my hair, whispering comforting words. I would have pushed away and tried to believe what you are saying, but we both know that I'm never going to believe that love is real. We both know that nothing could have stopped this hurt. So without you to see through my mask, I smiled. I laughed. No one knew that I was breaking.

You would have known.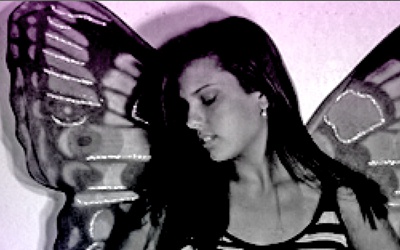 © Kathleen M., Rowlett, TX