Phantoms
May 15, 2011
The only justification I had for my actions was insanity.




If I ran off a building, if I jumped off a cliff, if I
drowned myself, I could see the reason for my existence again.




The fear and yearning bottled itself inside my soul, driving
me toward action. With every self-induced profanity, my mind would burst into a realm of memories and visions. After the danger, my darling would come to me
and whisper that beautiful sonnet inside my conflicted head once more:



"I love you."




One act of danger, one sentence proclaiming the love I had
lost. Ecstasy.




All the bruises, broken bones, and hallucinations, all of that
physical pain, it was worth hearing those words again.




I told myself to stop, I was falling further and further
into the darkness I had fought so long to stay out of, but I didn't care. If it took loss of limb, or loss of sanity, I would take it to feel that fulfillment
again.




This time, with the fire, it was different. I knew it was the last time I would see my precious love again in this state. He tried pulling me from the fire, wanting to save the skin that burned, but he could not touch me for I was earth-bound. It was torment for us both, but I knew it
was the only way.




When my figure fell, my soul stood lingering. My love immediately
gripped my hand. He was upset that he failed in saving the life he wanted for me, but was so overwhelmingly happy to touch me again. Our souls, the same in color and design, were ready to wander together in the mysteries of the
afterlife.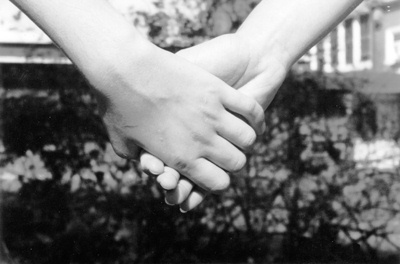 © Lauren G., Pompton Plains, NJ