Stockholm Syndrome
May 15, 2011
Perfection doesn't
last: the fragile seams of such a concept are destined for destruction.




I had to do something, had to stop the inevitable from

unfolding. My pain was immense; my thoughts were that of the insane. I couldn't

let it go. Your abandonment left me shaken and fearful. The silence was so agonizing;
in my haste I took on unhealthy practices.





How do we save it?
What sort of glue can tie the splintered bonds tightly enough for concealment?




The desire of physical misery set fire to my veins. The only

way I could handle the mental capacity of my thoughts was to act. I found someone,
someone who would give me the physical pain I yearned for.





Must we let our
happiness go to find it once again in the distant future?




I had given up the fight. The battle for happiness was so

intense, yet with no results. I clung to the comfort of my injuries, treasuring
each one.





Even the most
beautiful flower welters with the coming storm.




These bruises and scars are marks I've chosen. I could've

found a way out of his control, but somehow I thought my self-destructive tendencies

would bring you back into my arms again. I sought someone harmful to replace
the heavenly peace I once had, and I found him.

When love dies, a
soul collapses.

You found me a time later, saw my abuse, and tried so desperately to reverse months of belittlement. I was too far gone; I lived only for the hand that struck me, I loved that hand. You refused to let me stay in my addiction; you stole me from the hurt that kept me living. I argued with you for a time, but when you wound me in your arms, somehow the innocence came back. I was cocooned in the memory of pure, untainted love again.

When love returns,
the chaos shrivels to simplicity.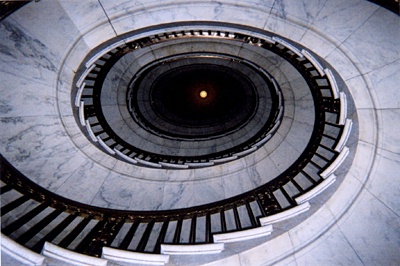 © Kyle T., St. Joseph, MO