Affliction & Fervor
May 15, 2011
I squint out my window and see formidable rain collapse against the fractured pavement.


I know you're out there.


My blood circulates towards my heart again, my limbs manage to function again, my passion blazes in my soul again; it's complete ecstasy.



Scrambling from my room I let the tears spill out my inflamed eyelids, and through the open door I bound onto the soppy grass.



The condensation showers and suffocates me, my clothes become drenched and my hair succumbs to a tousled curl, yet I continue to wait.



Without warning you're with me: your hands caressing my face, your lips commanding my lips.



Perfection.



"It'll be okay."



I hold you tightly; I can't let you abandon me again. Your arms wrap around me more firmly, your broad shoulders protecting my fragile self with care. But just when it feels like this serenity could never end, you let go. My arms flail in the dark for you, but you're not there.



A beautiful voice whispers "I'll be back" through the eerie trees. The voice shelters my sunken heart and I can breathe again.



The pouring rain collides with my torment invoked tears and my hands touch my abused lips.



"I love you."



I lay myself on the cryptic thorny grass and plunge into a dormant sleep.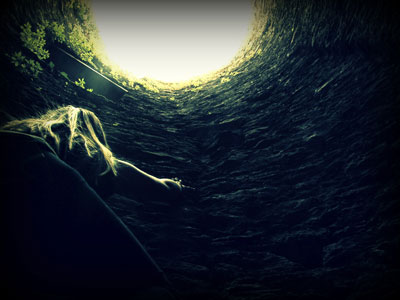 © Caroline C., Coronado, CA