Stars and Songs
March 30, 2011
"What would you risk a friendship for?" she asked, breaking the silence all at once. I had expected it; this was Callie, after all, the girl who couldn't keep her mouth shut if her life depended on it. But I hadn't expected such a serious question. I looked at her, at her huge, slightly disproportionate blue eyes that were sprinkled with the stars above us. She smelled like chlorine and sweat and, just faintly, like apples. Constellations were printed on her face in freckles, and similar ones were reflected in her eyes. Her face was far off in the sky, far in the future; not in the present that I reveled in. She looked at me, turning those clear, open pools to drown me in her scent and her smile and her soul as a now-familiar but still striking electricity shot through me. I was lost in her, in her first crooked smile and her adorable freckles and her shaggy, frizzy hair. I could hear her lame nerd jokes and her laugh and how she caressed the poetry she read aloud to me, and I could now hear her wistful sigh as she looked for her future in the stars. I could smell the chlorine intertwined with her apple shampoo, and her sharp mint chapstick that burned my own chapped lips, and her jasmine and honey lotion. I could taste the receding summer and I sensed the small space between us. And I'll never be able to describe how I felt for her, or how I fell for her, but it went something like this:


This is the only memory I keep

it's the one that makes me strong and weak

it's the thing that makes me weep,

that is, when you're far away…


This is the only song I'll sing,

the only memory that I'll bring

when I go to meet the King

once I go to Heaven…


But til then I look to the sky,

which reminds me of your too-blue eyes,

I'll love you til the day I die,

and even after, Callie…


When we looked into each other's eyes, blue meeting brown, it was like a dam in me had broken. But not simply broken; it had snapped, collapsed, crumbed into the sea of emotions that the dam had been holding back. And love and lost and hope and despair and warmth and pain and hate and happiness flooded into me and out of me, into the night. And I opened my mouth, parting it just barely because I needed to tell her right then that I love her,

but then she turned

and she looked away

as she said "Who would you risk it all for?"

And that was when I realized that no… No, she didn't feel the same way. As she looked into the stars, away from me, looking for another man's face, I knew that I was part of a love triangle that would be filled with hurt and depression for the point I was on. It would sting more than a bee, and it would hurt far worse than Rebecca's slap to the face. It would be filled with everything cold and dead that I was feeling now. So I built a raft in the puddle of emotions that was me, and I said "no idea", and I wondered how long it would take for the raft to sink.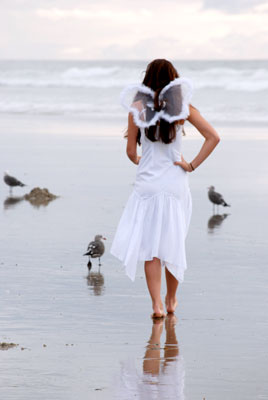 © Junia Z., San Diego, CA