Cassidy Kalyca Section 1
March 25, 2011
I was sitting in my usual, comfortable chair in the public library writing yet another story. The room was well-lit here in the old English Literature area. The company was good too; Shakespeare and Socrates were quite the storytellers.



I could hear shoes echoing in the front hallway on the wooden floor. Sounds of children giggling and adults speaking and teenagers chattering filled the air.



Clicking my pen, I sat there trying to think up a new story to send to publishing by the end of the year. My deadline was four months away and I still didn't have one word written with any molecule of brainpower or cleverness. I had written four best-sellers in four consecutive years- quite the accomplishment for a twenty-six year old woman. I also owned a large house in the East Village and had almost a full-years' salary for some in each of three banks. One here in New York, another in England, the third in Paris. Cliché, I know, but that too is an accomplishment not just for a woman at my age, but for anyone at all. I'm quite proud of the things I've done thus far in life, it takes a certain amount of balls that even men don't have, I think.



Yet, even with my great accomplishments, I sat there alone in the large public library with a deadline fast-approaching and nothing to give Harrison and Banks.



Closing my eyes, I tilted my head back and breathed in the library scents that I'd adored since childhood. Old books, paper and ink filled my nostrils- even the scent of some very old, leather-bound books hung in the air.



Then I smelled something entirely unrelated to books; something I often tried so hard to stay away from: man. Although, that didn't stop me from sniffing the fragranced air. His cologne was woodsy with a light musk, reminding me of when my big brother Michael took me to the park when we were kids. Back then Mike was kind, innocent. He's not like that now.



Stupidly, I opened my eyes.



I gasped when I saw him, jerking myself forward to sit up, sending my notepad and pen flying to the floor with a clang and tear. He'd been standing directly over me, looking down at me through the clearest blue eyes I had ever seen.



"Oh!" He stumbled back, embarrassed. "So sorry. I- I didn't mean to frighten you." He came around to my side and picked up my notepad and pen for me, then handed them to me. He had a slight English accent and thick, black hair kept short and tidy.



He looked to be about twenty-eight years old and was absolutely drop-dead gorgeous, which had me curious as to what he was doing in a public library instead of torturing some innocent woman. Scarier yet, I caught myself wondering if he was single.



"I'm Jeremy." He said. "Duncan." He extended a hand.



"Cassidy." I said. "Cassidy Kalyca." We shook hands.



"So you are the author." He looked delighted at this news. "It's such a pleasure to meet you. I'm a huge fan of yours, you see. I thought I recognized you from the photo of you on your books, which is why I was…staring. Sorry about that." His cheeks were turning red all the while he was babbling. I stopped listening after a while because my emotions were beginning to conflict. I felt honored to be meeting an actual fan that recognized me out of the blue; embarrassed to be seen in public (by an actual fan) in my most comfortable sweat suit and sneakers along with my cheapest satchel; upset that a man could possibly be a fan of my books considering my books are about confident women and/or feminists. None of my books are even closely related to tales about men or romance; if anything the men die in my stories.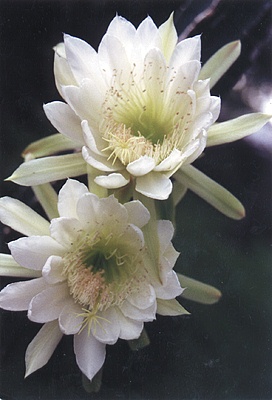 © Lindsay T., Vernon, TX