The guy of her dreams!
March 11, 2011
It's the second day when Josh didn't call or even message Catherine. She was all upset and tired of waiting, she tried to contact him but no reply!
Eyes filled with tears she fell asleep waiting for him to get to her. Though sleeping was something difficult, Catherine was only taking short naps and checking her phone every now and then to see if there is any message from Josh. But she got no message from him. All sad, frustrated and worried, she was then.
All of a sudden she heard her phone ring, and yes it finally was him..it was Josh! The screen flashed his name and there came a huge smile on Catherine's face. She picked the call and at one go shot out all her anger and worries at him. Without much a say he knew he had to face this after what he'd done. Josh patiently and calmly without saying a word kept on listening to what Catherine had to say. As she ended her side of the story, she expressed her happiness to see his name on the screen of her phone, she spoke and spoke and suddenly said, Josh I really love you a lot and you mean a lot to me and put down the phone!
She was all so excited that she didn't let him do his part of speaking. The phone rang again, it was Josh again. This time he wanted to tell his side of story to her. He apologized of not getting to her soon when he was supposed to be, and told her not to get so worried and tensed about him, he was busy working on a project and so couldn't get to her earlier, but he had missed her as much as she missed him. This made Catherine go all, awwww ?. He said that even if he's busy he'd let her know about it so that she wouldn't be so worried and because he never want to see her cry neither does he want her to cry because of him. After he said all this he softly said; Catherine would you mind dating me?
In the response of this Catherine said, Josh; I'd consider myself lucky enough that YOU want to date me. I surely wouldn't mind honey, I love you!
Josh, do you love me? The moment josh says-yes baby, I……..there is a long pause and Catherine here's another ring. This time its her alarm ringing and she realizes that it was all just a dream! She checks her phone to see if there were any messages from Josh, but is all sad because there were none.
She decides to call him up and on the other end someone other than Josh picks up the call. Hello I'm Catherine could you please pass the call to Josh? She says. The voice on the other end says, sorry ma'am I'm John and I'm afraid that Mr. White (Josh) can not take your call because he has met with a major accident listening to this her jaws drop. She finds out where Josh was in which hospital and rushes there, and the nurse asks who she was and hands over a note addressed to Catherine! The note said,

"I'm sorry baby I'm late, I always wanted to tell you this but in all the fun and frolic just couldn't, I've always liked, loved and cared for you and I want to spend my life with you. Would you be my life, my sweet wife?"
Catherine breaks down completely and all she does is pray for his life. Finally after a lot of treatments Josh is back with all his love and care for Catherine. They know begun with a new relation, new worries, new happiness and togetherness!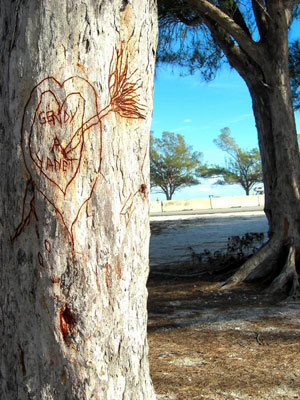 © Richard F., League City, TX