The Waiting Waltz
March 2, 2011
I said goodnight to my parents and traveled to bed. I prayed my nightly prayer begging for the same things and asking to give hope to the world, always ending by pleading that tomorrow would be a wonderful fateful day. I closed my eyes and let my mind race and race with thoughts of the day and fantasies. I saw the day's events pass by with a little assistance. I see myself walking down the open hall and then I see a fuzzy haze around the scene and my dream begins.

I close my locker and set off to see Brian for a few seconds. We get closer to each other and right as we should see the other, look in their eyes, and pass by each other until tomorrow Brian smiles at me takes one more step then reaches back for my free left hand. He grabs it gently and our surroundings change like they often do in dreams. Slowly we go from school to a restaurant. He leads me to a seat and a waiter comes to take our order and even though it's a fancy place we order two burgers. He sits across from me and strokes my hand and the scene changes again to a church that is similar to Trinity's SLM.

"You're going to be late for class." I state oddly out of place.

"I don't want to go. I want to be here with you." He then took me willingly into his arms. Then he lifts my face to his and passionately, sweetly kisses me and then says, "I love you"

I say nothing back but only kiss him and then we find ourselves in the emptier dance platform type area of the youth corridor. He again puts his hand in mine and his other arm around my waist and we dance and dance for the rest of the night under the stars of the nonexistent ceiling. We dance as a way to wait for the sun to come up and to wait to light up Haylie's eyes with a feeling of romance. We dance to wait for Haylie to talk to Brian that day and find out that he had the same dream. We dance to wait for him to realize as we pass by in the open hall and his eyes go wide as he stops to recollect himself because he knows it was me in his dream. We dance to wait for him to call out to me and quickly tell me that he dreamt we danced together in his dream and I agree and say I dreamt the same scenario as well. We dance to wait for him to still stand there even more confused and I smile a charming grin at him and walk away. We dance to wait. We deem our dreaming dance the Waiting Waltz and dance to wait.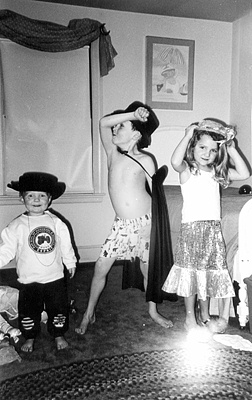 © Courtney M., Marblehead, MA