A Hand to Hold
February 25, 2011
She was dressed to awe in a mint colored gown that touched the ground in folds of fabric. It was the perfect fit to her thin figure and the missing neck-line added to the simpleness of the dress. She had never been to one of these parties that her mom held. Even as a daughter of society, it was a first to her. The array of dancing bodies of perfect posture and men with well-pressed suits intimidated her to the point where she stood near the door, terrified. But from across the room someone saw her, his eyes noticing the perfect, natural ringlets that fell in black sheaths of hair and a small, pointed face the color of ivory. Then their eyes met, his blue ones verses her deep gray ones and he knew that they would one day be married.

He came to her then, shimmying across the dance floor by gently pushing the dancers aside. And introduction from him. She replied with her own name. Then they danced.

It wasn't for four years more that they were married. A day so perfect that the sky seemed to be an endless expanse. They were wed on the hilltop just outside the city where you could see the farms below and the skyline behind.

She fit into a corseted dress with a hoop skirt of cream. He in a deep black tuxedo. And they kissed. The day was theirs.

And now, sixty years later, they are side by side. He is barely holding on. She can't hold on tight enough. She tells him this story over and over again until they both cry. And then he's gone and she's alone with only a hand to hold.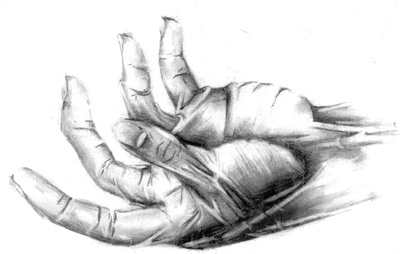 © Yisrawayl G., Philadelphia, PA