Open Roads and Dreamers
February 12, 2011
Last night taught me alot, opened my eyes to things that were always there but i never wanted to see. instead of it being us, being happy and alone it felt as if the world had decided to sit itself at our table. i looked at you long and hard and almost cried at what i saw. the bags under your eyes, the hurt that lay within those hazel eyes or the almost wishful thinking. i found myself being the realist last night, kinda scary. i've never been logical, that title always fell to you. so last night i sat down to dinner, our one year dinner, and shared it with your dad and you mum, your boss, employees, friends and insurance companies. the table felt 10 feet long, not made for 2 at all. dinner was lovely all the same, but i always imagned it different, to be more intimate. you know me, i would've been happy with a home cooked meal, cheesy movies and tons of cuddles on the couch. going out with you was really nice, and the drive after was beautiful but it felt just as metered as it truly was.

I guess I have a tendency to be a little selfish now dont i? after all what more can i truly ask of you? ive always asked for you to make time for me and you do, but if i ask you to be fully there with me, you cant. The house of horrors, thats what your place is now. everytime im there i remember the jokes we had, making out when your parents werent home and sneaking in late. i remember feeling awkward around your mum and being thankful when your dad was around. the valentines day dinner you both left me cornered at the table, and the discussion that followed. the drives up north and just singing and laughing and having a good old time. what i miss most was the smile on your face whenever you saw me and our birthday weekends. now the jokes are forced and stale, we have our run of the place because your mums no longer here. now i cant wait to get rid of your dad and valentines will be spent apart due to busy work loads. how there wont be any up north trips for a while because other then baba and harry there isnt a reason to make the drive. my birthday wasnt spent as happily as i wanted it and yours is lingering close.

The beautiful smile has dissapeared and now i only see the faint ghostly outlines, the reminents of a guy long past. Youve had to grow up way to fast and ive been taken along for the ride. Do i need to tell you how many d*** times ive been told to be gentle with you? do you? if i hear that one more time i swear...h*** i dont know what id do. things are so confusing as of late, everything thats happened is insane. there are times when i get to thinking, and honestly i...i get scared and cry for you because its the only thing i can do. ive been there to hold your hand, ive been with you through alot but there are still hidden facts, things your either not willing or not able to share, or both.

Theres a couple things i guess i should tell you right about now, but im gonna skip past that part. ill always be sitting right next to you in your truck, standing next to you at any place or lying next to you on your bed. if you think im leaving you anytime soon your sadly mistaken, i need you just as much as you need me. i love you, you wonderfully silly, warm, kindhearted, stubboron loving man. Ill be there with you cranking tunage and egging you on to go faster, maybe we'll go fast enough to see the changes comming.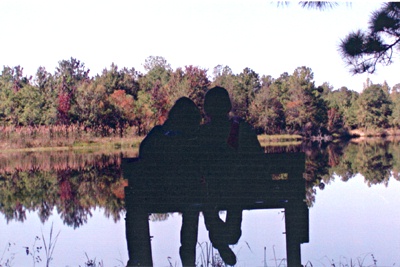 © Heather J., Slidell, LA