Love's a Basketball Court
February 2, 2011
Rihanna Jacobs' world seemed to be falling apart right in front of her nose. She felt like there was no need for her to be around. Her friends seemed like they depised her. Every day they seemed to be ignoring her more and more. Sure, they had all just gotten into high school and they were focused on grades, but why wouldn't they talk to her? They had time to talk to each other, but never her. Rihanna also felt betrayed by her cheerleading team. Even though most of the girls said they would vote for her as cheerleading captain not a single one of them stayed true to their word. Rihanna was proud to have made it on the cheerleading team for the second year in a row, but watching her arch enemy, Stacy Philips, jump up and down with all her friends made her sick to her stomach. Stacy Philips always won everything. Why couldn't Rihanna win anything? There just seemed to be no hope.

Rihanna could rely on one person, her boyfriend Damian. They had been together 4 months. Damian was the only person she had in her life. Even though they loved each other, they faced two major issues. This first issue was the fact that Rihanna attended Williamsburg Christian Academy, and Damian attended Hampton Roads Academy, who were the biggest rival basketball teams in the state. These two schools despised each other. A student from WCA should not even think of talking to a student from HRA, not to mention Damian happened to be one of HRA's best basketball players. When Rihanna & Damian met, they knew they would have to break this barrier. The couple decided to keep their relationship under wraps because they knew they would be getting dirty looks and nasty comments left and right. Fortunately, not a single soul knew about this relationship. Until one day they both decided to tell the world....


It was late November when basketball season finally rolled around. Not only did this mean that WCA would have another victorious season, but it also meant the homecoming dance was soon to come. Rihanna knew that no guy in the school would ask her because WCA was so intimate. But she also knew she didn't want to bring Damian and ruin his career. Rihanna, having only Damian to talk to about everything that was going on, decided that maybe she should ask Damian his opinion. Rihanna bravely asked if he would come with her. With much thought, Damian said yes. Her heart leapt with excitement. But then the worry sank in. What would this do to her? To Damian? Oh, she wanted to tell her friends so badly, but she had none. The only person she had was Damian. Rihanna tried to set her worries aside and think of how much fun they would have dancing the night away. Rihanna had never felt so nervous and so excited at the same time.

The exciting night finally came. Rihanna anxiously awaited outside the school with the rest of the high school. Every high schooler came to see the WCA basketball players pull up to the school on homecoming night in their rented limo. This was WCA'S first game night. And their first team to defeat was HRA. Rihanna watched heads turn as the limo eventually pulled up. Out came all the players, Devonte, Carter, Winston, JD, Anthony, you name them, they all piled out. Rihanna almost felt like she was at the red carpet. Every student cheered as the players walked by, escorting their dates through the front door. This was their night, and soon it would feel like Rihanna's night too. Rihanna saw HRA's basketball bus pull into the big parking lot next to the school. She headed over to the parking lot in her high heels, knowing that her moment was coming soon.

Once at the bus, Rihanna kissed Damian on the cheek. Damian's friends were staring. They all had the same thought: who is that girl? After Damian got his basketball duffle, the two walked in hand in hand. As they came closer to the gym, Rihanna could feel the thumping of the music, which at first she mistook as the nervous beating of her heart. Damian looked into Rihanna's eyes before they entered the big dance.
"You ready?" asked Damian.
"Um.... yeah." Rihanna sighed. They both reached for the gym door and slowly opened it. Rihanna was surprised; this didn't look like the gym she knew. It was all decorated with basketball signs and streamers. The WCA basketball players all danced in the center of the court. This was their home and their moment. Rihanna began to feel confident. No one was watching them and no one seemed to notice. Damian's tie matched Rihanna's dress- her dress was purple, long and flowing. Damian wore a black suit with a purple tie. Rihanna saw her group of friends- well old friends- watching Damian. That's when she felt the eyes. WCA girls were watching them; hands over their mouths whispering to each other about who this mysterious guy was. The boys stood watching him with their hands in their pockets. Rihanna began to feel very awkward.
"Are you from HRA?" asked one of the guys, noticing Damian's duffle bag.
"Um.... yeah I'm from HRA," Damian tucked his bag behind his back. Rihanna's jaw dropped. This couldn't be happening.
"You one of the basketball players?" asked the guy.
"Well...." Damian began but he didn't get to finish before the announcement was made.
" HEY EVERYONE! RIHANNA'S DATE IS FROM HRA! AND NOT ONLY IS HE FROM HRA- WE ARE PLAYING HIM TONIGHT! AND HE IS ONE OF THE TEAM'S BEST PLAYERS!" Immediately everyone's head turned toward the couple. Evil glares came across most of their faces. All of WCA's basketball players gave each other a look. Carter, the best player, looked quietly around the gym.
"Keep dancing, ya'll. We'll take care of this." Everyone did as Carter said, though they were all suspicious. Carter led all the basketball players to the drink table. Rihanna watched them closely wondering what they might do to Damian. They seemed to be planning. Rihanna couldn't bear it. She had to leave right now.
"I'll be right back," said Rihanna, " I've gotta go to the bathroom."
A few minutes after Rihanna left, a few of the WCA players came to Damian.
"Hey, I'm Carter," said Carter. "You mind if you come with us for a while?" Damian looked left and right.
"Rihanna went to the bathroom, I'm not sure if I should leave."
"It won't be very long," said Carter. Damian decided to go with them. They lead Damian to the back of the school, near the boys locker room.
"So, you think you can come on our turf?" asked Carter accusingly. "And date our girls?"
"I don't understand the problem. Just because our schools are rivals doesn't mean we can't date."
"Oh, well according to us, there is a problem," said Winston. "And you're gonna pay for it, MVP."


Rihanna walked back into the gym. Everyone's attention was drawn to the gyms back door. Carter and Winston held Damian's arms. Damian had a black eye, a bloody nose, and torn clothes. Rihanna looked on in disbelief. Damian made eye contact with Rihanna. He looked away quickly with grief in his eyes.
"We took care of him- now we'll win for sure!" Carter yelled with his fist in the air. The high schoolers cheered. When they let Damian go, he came over to Rihanna and pulled her to the bathrooms.
"Why did you bring me here if you knew this was gonna happen?!'
"I knew they wouldn't be happy but I didn't know they would go this far!" Rihanna yelled innocently.
"Rihanna, maybe this is gonna be too hard. I can't do it anymore."
"But you said you loved me! You said that even if your reputation was ruined that wouldn't stop you from loving me!" Rihanna yelled with tears in her eyes.
"I lied," said Damian softly. "I'm sorry." Damian walked away slowly from Rihanna. She collapsed on her knees. Her love walked away right before her eyes. Through her tears she looked at her watch. It was 9:00 p.m., time for the first game of the season. Which also meant Rihanna had to cheer. Dreading it, she found her uniform and went to change. This would be a very long game.
As Rihanna guessed, Damian couldn't play due to Carter and Winston beating him up. Rihanna cheered throughout the game, but did not feel cheerful what so ever. As half time came, Rihanna remained on the cheer bench. Her old friends came over to her.
"Rihanna, you don't seem like yourself tonight," said Samantha.
"To be honest, I haven't been myself for a while."
"Look, we know what happened tonight with Damian," said Demi. "You could have talked to us about it. The whole Damian thing, I mean. You know we would have listened."
"Really," Rihanna asked. "I thought you were tired of me.'
"Girl, we are your friends," said Samantha. "I know it seems like we've been ignoring you, but don't ever let us do that again." Rihanna's friends all grabbed her into a big hug. Rihanna's heart picked back up! She felt so happy knowing that she really did have friends!
"We came down here to tell you we love you and you can talk to us anytime!" Demi said cheerfully. "Good luck for the rest of the game!" Rihanna'a picked back up. By that time the last quarter began. Rihanna cheered loud and hard for the last half! When the score was 30-30 with 10 seconds left in the game, Carter had control of the ball. At 3 seconds left he scored WCA a basket- the winning basket! All of WCA's fans cheered loud and proud! Rihanna and her friends all hugged and cried. Her friends were happy that WCA won, but Rihanna was happy because she realized two thing. You don't need to keep secrets when you have such great friends! And you don't need a boyfriend when you have such great friends!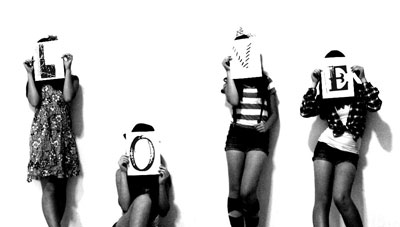 © Yoko K., Madison, WI