A Bad Day But a Great Start
January 22, 2011
It was any other rush morning for most people…To be specific, the people who slept in that is…Especially me, a guy of twenty-one who is right now hurrying as we speak. I was just shooting through clothes for work and fixing myself as much as I can before I grabbed my suitcase, house keys, and wallet then I ran out the door. It became quite a habit for me when I moved into the city five months ago so I was always hurrying away but today, I was more late than usual.

As I raced down the streets, I made sure to stop by the small bakery near my bus stop. It was a small, sweet-looking building painted in light, pastel colors with a round sign with round letters and a curvy bell by the door.

When I entered, the bell ringed announcing my arrival as I walked up to the counter. I felt like all my stress this morning washed away as I was greeted by a familiar sweet voice.

"Good morning, Randolf," she said with her bright smile. She was a girl somewhat about my age, but of course, as the old saying goes…A woman never reveals their real age…or their weight even.The girl had black silky shoulder-length hair and blue sparkling eyes. It was quite a genetic combination along with her superb cooking skills.

It became a morning ritual for me to come here to buy my lunch which consisted of…

"A cinnamon bun and a ham sandwich right?" she said as she had a ready prepared bag with my order. I smiled as I took it. I had the price memorized so she didn't need to tell me it. I just had to give the exact and she would take it.

I was a regular customer here at the bakery. I came here for the freshly baked goods, the hospitality presence that the bakery gave, and the companion of the girl. It seemed better than home, more like heaven to me in this small little bakery.

Her black hair fell over her face as she bent down to put the money in the register while she giggled to herself.

"Slept in again this morning, eh Randolf? You're a little late than usual. Oh, do you have five cents?" she said, starting the conversation.

"No sorry," I said, rummaging through my wallet. "But you're really something Rachael. You're up and going so early." She giggled at the comment.

"Silly, that's because I go to sleep early," she said with shining blue eyes as I raised my eyebrows.

"I don't believe that. A pretty girl like you? I'd believe you would be on at least one late evening date—," I began, but she interrupted.

"You know I don't," she said. Then she gave me this look. I didn't know this expression but I knew she was looking at me…I couldn't tell what she was thinking though or what she wanted…Then she changed her attention from me to the clock on the wall.

"However, after today—Oh, doesn't your bus leave now?" she told me, knocking me out of my stupor. I panicked as I saw my bus driving pass the bakery through the window. I ran out hurriedly and hastily returning her goodbye as I chased after my bus. Luckily, I was able to get to work…on my own two tired feet…

Things got worst for me because I had to do a lot of paperwork than usual. Thankfully, we have a lunch break. That was my only savior for this horrible day so far…

"This is the worst day of my life…" I muttered as I took my lunch bag. As I was about to open it, I noticed some writing underneath the usual white bag. I took a closer look and I saw numbers…A phone number?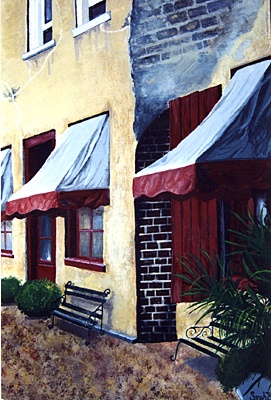 © Sarah B., Kannapolis, NC