Isolation Not by Choice
January 10, 2011
I was in love,simply in love. His religion was different than mine. He believed in Alah, I believed in God. Yes,they're the same, I know that. Simply put, he was Indian and I was..Dominican. Wierd combo, I know..don't have to tell me twice.

We walked through a park walking into a tunnel. It was dark right in the middle,but at each end the light shined unbearably. The place we were was high above ground and two feet above us, was a garden. You weren't able to see it fully, but there was a gate and flowers rested against them. The ones that were visible, were beautiful ... gorgeous. The colors, types, varied between them and it was simply, beautiful. Twenty feet below us,about, was a baseball field. It wasn't preoccupied at the time.

He took me there by surprise, the boy I was inlove with. My arms were wrapped around his neck. My fingers were caressing him, his neck, the hair on his neck. It was smooth, like ... like the feeling when you touched a petal of a flower the first time. He had is arms around my waist and his face was snuggled in my neck. I felt his heart beat, I felt his warm breath against my neck and I couldn't help but smile. We were walking through the tunnel and suddenly found ourselves walking down a couple of steps.
We were getting looks, bad looks, from my lovers friends or family .. strangers to me. I had no idea who they were and I didn't worry. I just disregarded their presence, I was only focused on my lover and the garden .. the beautiful garden. We let go, abruptly, and faced each other. The shadow of the tunnel we walked through previously gave us some sort of shade from the sun. Our lips suddenly touched and I had no choice, but to give in. I let him explore my mouth as I did his. Everything went by slowly, time was going by slowly, I felt my life suddenly .. slow down.
?
The kiss ended, eventually, and with that kiss, my lover knew I was in love with him. With that kiss, I knew he was in love with me. He walked away from me, leaving me confused. Then, he came back, with a flower ... a strange flower. Everytime I blinked, it changed colors, colors that I never knew existed on Earth. I was in love with the flower .. but mostly, irrevocably in love with him.
With a blink of an eye, he was gone. I only felt a breeze, a slight touch. He was gone along with the beautiful flower .. don't know how it happened, but all I knew was that he was gone. Gone from my presence. Was he a ghost? A figment of my imagination? I looked at myself, I wasn't the same. I was thin, skinny, not big, not heavy. Then and there, the truth slapped me across my face ... It was a dream.
A dream of my wishes.
?
A dream of what I wanted most in life.
?
A dream...
?
I wish...
?
would become reality ....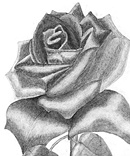 © Nghi L., Phoenix, AZ