Breakfast and Dessert in Bed
January 11, 2011
I awoke to the aroma of sizzling bacon, heated sausage patties, and soft French toast. It wrapped its warmth around my body as I rose out of bed.
"Oh…no you don't!" he yelled as he entered the room with a tray of food and a couple of cups of chocolate milk, my favorite. I reached for my crutches, but he quickly set the tray down and pulled them away.
"No…just get back into bed," he demanded, "the doctor says you need to rest and eat."
"But I can't see, at least let me put on my contacts," I whined as I pushed towards my crutches.
"Here are your glasses," he placed them over my jungle hazel eyes.
"What about my face?" I suggested as he raised his eyebrow.
"Its beautiful without the wash," he complimented, "all natural."
I giggled. I gave in and let him carry me back to the bed where I covered myself in ocean blue blankets. He jumped back in as well and rolled on top of me. I groaned as he put pressure on my abdomen which was still bruised.
"I didn't bring you back to go to sleep, again," he pouted.
I grinned and turned to face his angelic face.
"Well, if you want to go back to bed," he questioned, "I could always eat the food by myself."
Before he could munch on all the food, I grabbed his arm.
"I was thinking we could have dessert before breakfast," I sexually proposed.
He chuckled and lay on top of me. His eager smile came my way and planted kisses over my mouth. I laughed and kissed back with just as much aggression…maybe more. With the disability of my leg, he had to do most of all the work. He rolled around and spread my legs apart and wrapped around his waist. My arms were signaled and linked around his neck. His hands slid under my pink tank top and held onto my waist. His breathing got harder as he pushed against me, our bodies in sync. He pulled back to pant a few times before looking into my eyes. He searched for something. Permission? He pulled me off the bed and onto his lap. He gripped the pink tank top and slid it over my head. My hands stopped to his bare chest. Caressing his body and feeling the ripples in his abs. I wrapped them around his back and felt the bone structure so tight and fit. I looked back up into his eyes. His eyes stared down at my bare chest as he moved his hands up and circled my breast. I dropped my head back as it soothed my soul. He lay me back down slowly. He kissed my mouth gently and became more aggressive with every touch. He drew back to slide my pajama shorts down. He looked back into my eyes and I nodded in an agreement as he removed his pants, as well. There we lay in a moment all ours. We stayed under the covers and mad love like there was no tomorrow.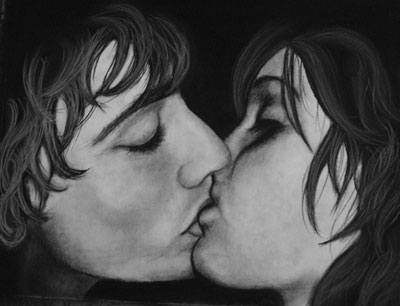 © Anna Y., St. Robert, MO