Dear You
December 6, 2010
Dear You,
Hey, how are you? I'm fine. Guess what! I like you. It isn't anything major, and sometimes less then others, but there is something about you that won't get out of my head. I'm not expecting anything between us, because despite the fact that you like someone, you aren't interested in a relationship.

But I had to tell you how I feel, this way maybe I can move on. Maybe you'll agree to bend the rule just this once? That's all I want. You are so sweet, and you make me laugh. You bring a smile to my face pretty much everyday. You are somewhat self-conscious, but you are so talented. I don't understand how you can't see all of the amazing qualities you have.
I can picture myself telling you everything and anything, and maybe you'd tell me your secrets, too. We can talk about it all, and understand each other. We can go out, or just sit home and watch a movie or talk. Or maybe play with your little sister, or spend time with my mom. Although my feelings for you aren't very intense, I feel like the two of us together has so much potential.
We may not be perfect, but nothing is perfect, and I think its better that way. It may not last forever, and I know you are afraid to get hurt, but it will be fun. It will leave us both with good memories, a sweet past between us. I'm not expecting anything, and I don't think the girl you finally choose will be me, but, Honey, you can't hide behind your guitar forever.
From,
Me

P.s.
I hope school won't be awkward after this.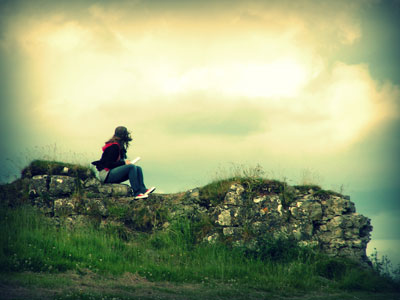 © Caroline C., Coronado, CA