The Perfect One
November 30, 2010
Just before I was about to fall, Luke caught me. My soul mate I thought in my head. He is so perfect and I just can't believe how I met him. I just remember that day.
"It is just so hard, to live in Mesona, and you are the rulers and can't do anything the right way!" Anika screamed at her parents, "I just want everybody to stop counting on me." I looked at Luke like he was water and I lived in the desert. Drooling I said, "My name is Anika I am the princess of Mesona and my name means beautiful" I said. "My name is Luke he said in his beautiful but manly voice." That night when I was headed of to the ball and I met Luke. He was so perfect almost identical to a rose with all of its pedals in line.
We were on our way to the ball when we met the Man-Beast. He was huge, harmful, and hyper. Luke had luckily brought his sword which had just been sharpened. He used it with as much force as he had. I was so scared he was going to die. Sweating so hard he shot and hit the giant Man-Beast he fell to the ground with blood tearing out of his huge human body. We went to the ball and danced our hearts out.

That beautiful elaborate carriage still sits in our house to remind us of that remarkable day when we met each other. I just remember that day.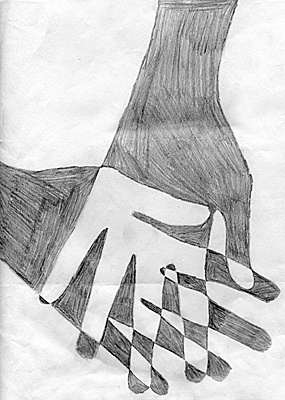 © Warlito B., Tamuning, GU