Baby; Come Back
November 2, 2010
I have been dealing with all of this hurt for over a year now. I miss him so much; I just don't know what to do without him around. He was my everything; I would do anything to have him back. How does something so good just go away and how can he so easily forget? I don't even know what happened between us, but it just all fell apart.

Some days we are friends, other days we don't talk at all. I hate the way things are; I hate how we act towards each other. We used to be best friends, lovers, we were so in love. I miss those days, back then I was happy. It's the days that we don't say one word to each other that kill me. He walks right past me like I was never a thing to him. I try so hard to just forget about him and move on with my life, but he's everywhere and I just can't keep myself away.

The days that we actually talk to each other mean so much to me, but does it even matter to him? Feeling this way is one of the worst feelings in the world. No one understands how I feel; they just tell me I'm crazy and to forget about him. They say to forget about him as if it is easy; trust me I've tried many times. But each time we talk, I just float right back to him. Without him I seem to have no one. I talk to other guys all the time, yet I still think of him. When I'm lying in bed at night, he's still the one I think about, still the one I want. All my friends are no help to me; they just make me feel worse and worse. They make me feel so much worse because they just don't understand what I have been going through. What am I supposed to do?
I can't wait much longer. If it all doesn't work itself out and soon, I don't know what I'll do. I just don't see a point to living without him, I've tried and everything just gets worse for me; it's like I am not allowed to be happy. At times he acts like he wants me to go away and leave him alone; that is what hurts me the most. If that's the case, I will just have to say goodbye for good..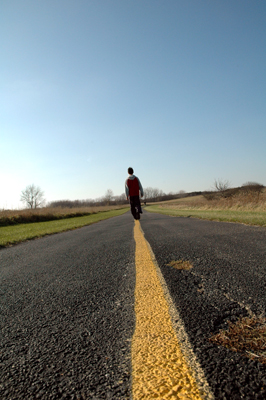 © Seita O., Palatine, IL