Awakened Ch. 1
October 28, 2010
It's odd how life is, love and hate, we all witness. We all face love, we all face hate. Both, piercing through us like blades. If I had to choose, maybe I would chose hate, maybe it is for the best. Hate can stop, but love, continues. Love is like a virus, we all face it, and we all get hurt, some of us find a cure, but some of us are left with the stain. When reality hits you, it hits you hard, it sucks the air out of you and soon you are left with a pain that soon can feel like emptiness. A hole in your stomach that sends chills through you. It all comes down to a choice, do you hold on to the thread that is hurting you, or do you let go and forget?

Today wasn't going all that well, but I plan to make it better, I will talk to the girl I have fallen in love with today, maybe it will help me finish the cold and cruel day, but I don't know why, but I feel like something bad will happen, something very bad. I pulled out my phone and dialed her number. I heard the almost annoying sound of the ringing. It rung about three times and she answered, with an odd tone.

"Hey Stefaun, can we go out somewhere? I need to um…talk to you, alone" she said sounding as if she was hiding something. Why is it that I have a bad feeling about this? What's going on? I need to stay calm.

"Yeah…okay, where do you wanna go Lexi?" I asked her. Her name was truly Alexa, but I called her Lexi because she liked it when I called her that.

"How 'bout we go out to the forest by t he old bridge…so we can um…talk." She sadi as I knew she smiled. I didn't question the place she picked.

"Okay I will pick you up at six o'clock. Okay?" I asked

"No, come now…" she said quietly, was anyone even with her?

"Okay see you in a couple minutes. Bye." I said.

"Love you, bye…" she said. The words confused me. I felt very glad but yet so confused. She has a boyfriend, so what's this all about? Thankfully I had already taken a shower, so I went into my bedroom to get my black leather jacket. I was wearing black skinny jeans, though they weren't really skinny on me, and a grey v-neck under my jacket. I grabbed my keys as the cold metal touched my skin. I looked around to see if there was anything else I needed and decided that I could leave the room now. I walked to the entry to find my shoes and put them on. They were black sneakers.

I opened the door and looked around again. I head out the door and saw my old truck. Shutting the door I walked over to the truck. It was an old truck but in good condition. I unlocked the door and got into the truck. I put the key into the ignition and backed out of the driveway.


As I was driving on the road I decided that it was intriguingly too quiet. So I turned on the radio. There wasn't really anything that good on the radio so I gave up and turned it off. Her house wasn't that far away at all so soon enough I was parking into her driveway. She was already outside waiting. She was wearing a black jacket and blue jeans. Her reddish brown hair was slightly wavy but her face had a hint of sadness. She opened the truck door and got in and didn't say a single word as she shut the door ever so lightly.

"Hey, how are you?" I said as I backed out of the driveway.

"I'm fine, you?" she said not looking at me. That's odd.

"Not the best day ever, but now that I am with you, it's better."I said smiling. She smiled lightly. What was wrong?

":Lexi, what's wrong?" I asked pulling hair out of in front of her eyes. She smiled and replied.

"Nothing, it's fine." She said as the smile disappeared from her face.

"Something's wrong--." I said looking at her.

"Pay attention to the road." She said in an odd tone as she cut off my words.

It was silent for the rest of the drive. Soon we were at the old bridge. We both got out of the truck and walked into the forest after I locked the truck. After almost tripping over some of the branches on the gorund she stopped, and turned around.

"Stefaun, I would like to tell you something." She said staring into my eyes.

"What is it that you would like to tell me Lexi?" I asked staring into her eyes.

"I know how much you don't like my boyfriend and I know it hurts you that I love him even though he always hurts me. I know that ir pains you that I love him. I see it in your eyes, so don't lie to me and say it's not true. I love you very much, and I care about you. You are my best friend and I know you feel the same way. I know how bad it would hurt you if I leave…" she paused, where was this going?

"That is why I am leaving you. I don't want you. I fell in love with you once, and it was wrong. I love Drake more and I know that you have been wanting to let go and say good-bye. So here is your chance, let go. Just let go. I love you so much, but you HAVE to give up, you can't just chase me forever. I don't love you like that, and I don't think I ever will. Good-bye Stefaun." She said trying to hold back the tears.

"No, Alexa, I know it's hard but you can't just leave me like this. Don't! You said you would never leave me!" I said confused.

"Don't. It's too late, I'm leaving you and I'm sorry." She said silently.

"Stop it! You can't do this to me! Just because Drake doesn't want you to hang out with me, doesn't mean you leave me! Don't! No! You CAN'T!" I said screaming. She walked towards me and hugged me, she kissed me on the fore-head and said three simple words.

"I love you." She said the words slowly and turned away. The words good-bye sliced through me and I felt like I was bleeding. I wanted to scream I felt empty. I felt lost. I had to run away, this isn't right. It will never be right. I walked further into the forest and saw a dark figure that was pale. I tried to ignore the figure but it came up to me faster than a human. He smiled at me and I saw his sharp teeth.

"Who are you?" I asked knowing that he would say, "Your worst nightmare".

"My name is Ray, but that won't matter once I'm done with you will it?." He said slowly, but before I could answer he pushed me to the ground knocking me out. I could still hear and feel, but I couldn't see. I suddenly felt a sharp pain in my neck and felt venom go through me. I felt like I was burning. I wanted to scream but couldn't. The pain was horrible, it was excruciating. Then I felt my heart, it hurt, but then it stopped and it felt like I was dead. Because I am. The pain was gone, and so was I.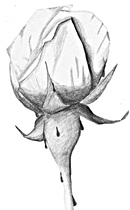 © Elaine S., Phoenix, AZ