The Ornament
October 5, 2010
My limp body collapses on the hard wood flooring. I look at a tiny silver square box underneath the christmas tree. It was a adressed to me. Only, this present wasn't from Santa. It was from Stewart Dalton. As you can tell, if I fall to the ground from just a present from a boy he deffinetly means somthing. Infact, Stewart was my first love, he was the only thing I had left to love. Mother and father were decaying away in a coffin some place. So, that left Strewart to be the only one I love. Although, Stewart took the same path as my parents.

Staring at the box my foster mom sits indian position next to me. Her arm over my shoulder in a comforting way and her head resting on my neck. She knows Stewart. She witnessed the last minute of Stewart's life, like me. We both watched him die in our kitchen. He sufferd an annerism.Pratically, an artery busted and his head filled with blood. It was a completely tragic moment, nobody could quite get over it. So, getting a mysterious silver box from your dead boyfriend is a bit frightening.

"Open it," says Linda, my foster mom. I turn my head and look at her in perplexity, "His mom brought it over. She said he'd been planning this forever." I look away and smile inside. I even told him gifts were childish. Linda leans forward retrieving the present and plopping it in my lap. I look away, afraid to look at it. Because of this childish present flashbacks swim around in my head. It's almost sickening because I tried so hard to forget, but it's all reappearing. Big salty tears slide down my cheek, and when they're close enough to my mouth I lick them away and off my cheek.

Taking a quick glance at the present through a mess of tears. Ugh, it's still the same god damn box. I'm tierd of being emotional over every little thing about Stewart. So, I dramtically tear off the bow and I lift off the lid. Inside is a small silver ornament. I take the ornament and I look at it from every possible inch. There isn't anything special. No ingravings, designs, or color. The only thing I see is my reflection. Well, this is bogus! Deeply checking the box I find a tiny slip of paper. My eyes scan over it and I felt it was right to read it aloud.

" Regan, what do you see when you look into the ornament? Your reflection right? Well, when I look into that ornament I see the most important thing any guy can have. You. Every day you glance at it I want you to know that you are loved and that your reflection is not just some lousy foster child. I want you to know its an important, special, incrediable, lovable girl. I want you to know that I'll love you till the end of time. Merry Christmas, Stew." I read passionetly. Speechless afterwards I start to cry again. Though now these tears aren't upset these are the tears of happiness.

Linda wraps both arms around me and rocks me, showing me her love. This was the best christmas gift anybody could have given to me. For a while more I rock in Linda's arms. Knowing now there are two people I will always love Stewart and me.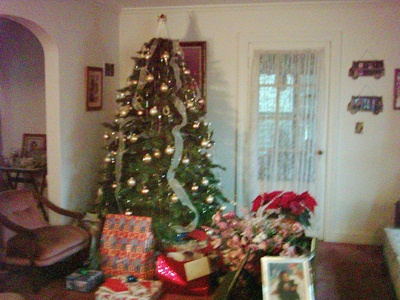 © Alexandria W., Hamden, CT