If My Dreams Came True...
July 17, 2010
Most people don't believe in love at first sight. I didn't either. I didn't think that just by looking at someone, you could know that you would be with them forever. That you would love them until Death's cold embrace came and took them away from you.
The first time I saw Santana was in a dream on Christmas Eve when I was five. He was two years older than me. In my dream I was being chased by a dinosaur and he saved me. I didn't remember what he looked like at the time, because when I woke up, I was too excited to open presents to remember an insignificant dream. I did find a Christmas card under the tree from Santana, but I thought it was just from my mom, misspelling Santa.
I saw him in another dream when I turned seven. I was sailing a boat and he saved me from a sea monster. Once again, I didn't remember what he looked like because I was too excited for my birthday party. At the end of the party, I found a card in my room from Santana. That's then when I realized something weird was going on.
When I was eleven, he visited me in a dream again. I was at home and there was a robber trying to get in. Eventually he did get in and had a gun to my head. I was freaking out because I didn't know it was a dream yet. That's when Santana burst through a window with a machine gun and saved me. To me, he looked like a real hero; all rugged and handsome. He had blonde hair, freckles, and a worn leather jacket.
"Thank you," I said in awe.
"No problem Emmy," he said. "My name's Santana." He reached out to shake my hand and that's when I woke up. I jumped out of bed and ran to my dresser. It took me a good ten minutes, but I found both cards from Santana. I realized that morning that I would never find another boy like him. I dove back into bed and tried to fall back asleep so I could see my handsome hero once more.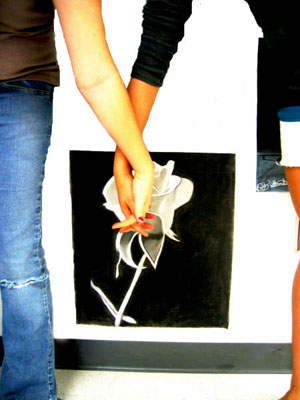 © Josie G., Wilmot, SD