The Right Choice
May 27, 2010
There once was a young lady who was very beautiful and intelligent. Her name was Monica . She had a very important decision in her life to make.

She was dating two men. One man very rich but stupid. The other man didn't have much money but he was the smartest man she has ever met. Since she didn't have all the money in the world, she dated the rich man. He didn't mean that much to her at all. His name was William. The only reason he is so rich is from his father's shoe company. The other guy John, works at Taco Bell. He is trying to work his way through college. He has no money at all. On their dates they want on walks in the park, stuff that didn't cost money. William only took her out to fancy things. He didn't pay attention to her like John did.

(thoughts and feelings,Magic 3) When things started to get more serious, both men were thinking about marriage. Scared to be talking about it and hoping if asked, she would say yes. She didn't suspect anything at all. William went to look at rings. (figurative language) He picked out a huge diamond the size of a golf-ball and as shiny as the stars. (specific details for effect)
Everyday though Monica became closer to John. They were attracted to each other like magnets.
(repetition for effect) She was loving being with him,Loving not having to worry about things. Loving life.

Monica knew she had to end things with William. So a few weeks later she set up a date with him. They went to lunch. She saw the happy look on his face when he saw her. (speaking,Expanded moment,appearance) She knew he wouldn't feel that way for long. She had to tell him how she felt. "Hello, sweetheart." William said with sparkles in his eyes.

"Hi, how are you Will?"

"I'm fine, what did you need to talk about?" They sat down and she told him how she has fallen in love with John. The smile on his face faded. (reaction) The sparkles in his eyes were replaced with an empty stare he gave her. (action,action verb)She knew he was not going to take this easily. After discussing the matter he stood up and said goodbye and dragged his feet down the sidewalk in the opposite direction. She felt relief. (appositives)She had a smile, of sweet and innocents on her face. She got up and walked down the street. She was going back to her apartment. William had bought it for her. (environment) It had a beautiful balcony on the back, a huge fountain in the front with exotic fish.

(adjective shifted out of order)Happy and excited, she called John. He knew this would be the time to ask her to marry him. (absolutes) He came over to her apartment, heart beating and hands sweating. (particles) Trembling he asked her "Will you marry me?"



Monica had an important decision in her life she needed to make. She decided that love and happiness has nothing to do with money at all.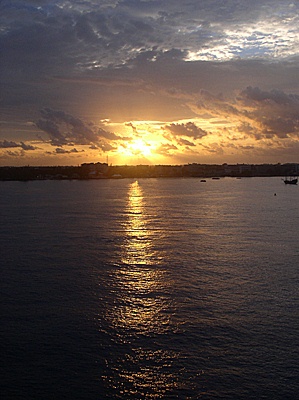 © Rebecca Y., Los Angeles, CA