I've Always Wanted To Know What Love Is...
June 15, 2010
I've always wanted to know what love is...
My name's Laura Redd, sometimes known as Lil' Redd. I live in Florida where it's hot and the hurricanes suck. I have fiery red hair that frames my freckled face. (my hair adds to my nickname). My skin's pale, but not pasety. My eyes are a bright green with brown flecks. I'm about 5'2" and I like being short. I'm 17 and i've never had a boyfriend.
My mom says guys are useless and a waste of time. My friends say I need a boyfriend. I'm curious to how love feels.
I walk everyday by the beach and the pier. I love watching the waves crash against the sea shore. I've always wanted to swim at the beach and go as far as my body would go. But my mom's afraid of me going into open water.
One day I was standing on the pier railing looking across the water, when I hear someone shout. I look over my shoulder and see the cutest guy i've ever seen. His hair was blonde. His skin was a light tan. He looked about a foot taller than me. He ran towards me and pulled me off the railings. He looked at me with pretty pale blue eyes. I saw his lips move but didn't hear what he said from being mesmerized by his stare. He shook my shoulders a little bit and I snapped out of it. I heard him ask, "What were you doing? You could of hurt yourself."
"I was only daydreaming." I answered with a shy look.
He made a weird face and asked, "Daydreaming? Looked more like contemplating suicide to me."
I started laughing so hard that he started glaring at me. I didn't stop laughing so he walked away. I let him.
Everytime that I thought of him I got this fluttering feeling in my gut. It made me feel anxious and made me want to see him. I went to the pier at the same time every night to see if he would come around. A month went by without any sign of him. I was walking along the beach kicking sand because I was so frustrated that I let him walk away. I looked up and saw him. He looked amazing. His hair and chest were wet from the water and his smile was white and beautiful.
He looked over at this pretty blonde with a perfect body and a pretty smile, and he walked over to her and gave her a kiss. My chest started hurting so bad. My eyes started watering and I ran the other way. I don't know why it hurt so bad when I didn't even know his first name. Mom said that the first heart break always hurts the most.
I've always wanted to know what love is... and I haven't really figured it out yet.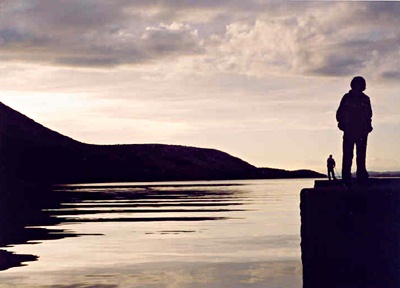 © Julia K., Nagykovacsi, Hungary