Loner
June 2, 2010
"Why do I always feel like a loner? My mother gave me the name Grace for a reason! Didn't she? I've always wondered why she would give me a name that isn't me."

"I mean look at me. I am a girl that has brownish-yellowish teeth, my hair is all knotted with gum and toothpaste, I look like a hobo going down the yellow brick road. I am poor and I still go to school, when I am 21 years old. I am in the 11th grade with other 16 & 17 year olds. They all look at me like I am some piece of trash. I can never seem to pass MATH class. Why is that?"

When other high-schoolers look at me, they think "Uhh... How gross is she... People say she is the poorest girl here at the Elsewood Academy. She is as old as the youngest teacher, Mr. Fossil, he is 53 and surprisingly he is still alive. I can't get pass his class with out him saying "Did you see that movie on TMC?" She always just ignores him. They all think she is older than she looks... with all her wrinkly skin that has no make-up on because it won't do any thing for her. Her blubber that sags all the way to Timbuktu. EEEEEEEEEEEEEEEEWWWWWWWWWWWWW!!!!!!!!!!!!!!!!!!!!!!!!!!!!!!

As everybody makes fun of her she just ignores that they are even there. She only has some friends, but they are usually not nice to her or they just hang out with other people that are cooler than her. When she goes home her dad is like so did you have a good day today? He already knows the answer to his question. I just ignore him as I go up to my room.

As the night goes on I hear people saying "Go to HELL!!!"

I just sit there and cry my eyes out, wondering why me?? Why should I even be here?? I consider to just go with the flow.

"I need a make over!" she thought. "I am going to go get a job and start a new life." She thought to her self for the second time. As she was trying to get jobs, no one would believe her that she was going to get a job. So she was going to prove them wrong.

"I can do this!!" She said to her self. As the night progressed on she was just lying in her bed she was trying to think what to do with her new look that she was going to get soon.

"When are you going to go to bed??" her dad McCotten moaned. "It is 2:00 in the morning, go to bed will ya?? "YES!!" I groaned with a yawn.

The next day I went to school and had to deal with the same old stuff, getting picked on, having things thrown at me , getting tripped in the hallway, being a teacher's pet. SAME OLD... SAME OLD THINGS!!!! After school I went and tried to take a shower, I didn't know how to do it... I had to ask my dad for help, (which didn't go so well) he still did help me, but he was just in a bad mood at the time. Then I tried to shave my legs and I cut my self on both legs so many times they look like they were tomatoes. Now that was gross!! TRUST ME!!! It took me like an hour just to clean all the blood that was on my legs and on the floor. I did my hair to where it looked decent, I thought. It had curls in it and a poof in the front. I thought it looked cute but, there are other people out there that may not think that is cute. But hey, it is me not them. They can think whatever they want to think.

As I was getting dressed I picked out the cutest outfit I had in my closet. They were TIGHT jeans and a low cut shirt that had the saying "Noelle". It was pretty cute. I also had a necklace that came down and it formed a heart at the end. When I was getting ready for a job interview my dad had asked me …

"Where are you going?? I thought that you had school today. Don't you?" "No dad it is Friday and school is over with for today. I am going to an interview with some people!! So just let me be and I can handle myself. SEESH!"

When I was in the interview the lady kept asking me questions that I didn't even know so I just didn't even say anything. When I got home my dad asked me how things went and I ignored him. I went up to my room and laid on my bed asking myself "Why did that go so wrong?" I kept saying it over and over again.

The next day I had received a call from the lady at the job interview. She was saying that I did get the job to work for her and that I would be folding clothes and putting them away on the racks and shelves. I was so excited for myself, I had finally reached my goal. Now all of my friends at school won't make fun of me now that I did something in life for once.

The next day at school I had told everyone that I had gotten a job in the mall. But of course I didn't say where at, but they will find me some how. That night I went to work hoping not to see anyone that I knew. My wish had not come true. I practically saw the whole school there. The word was out and I was DOOMED!!!!!! Everybody came to see where I had worked. Some of the students that were in the store were like looking at me and talking about me. I didn't care what they were saying as long as I was happy! I had made a good pay for the day and I was happy.

Now that I accomplished my goal my job is done. Now I knew why my Mother called me Grace.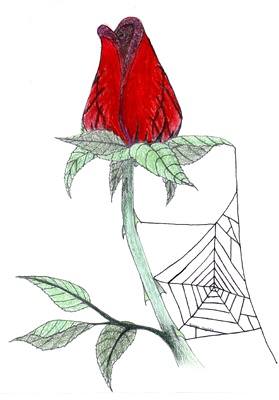 © Tommy H., Marlow, OK