CHEAT
May 23, 2010
His hands swiftly touched her hair as they lay together on his bed. They had been together for four months now and not once had his wife come in on their "charade". At least that is until tonight. While lying side by side, Emma seemed a little uneasy. So to calm her down Derek wrapped her in his manly arms and lay next to her. Derek's wife, Anggie, walks in the room while he is carressing Emma's soft white neck.
"What is this?!" Anggie yells with a strong English accent, which startles Emma. She quickly gets out of bed, puts on her clothes and runs out of the house barefoot, scared that Anggie might come running after her.
A long worrysome night is what Emma feels will come over her tonight. But it doesn't, she sleeps like a baby. All the while knowing she is going to be either fired or demoted tomorrow at work. See Derek is her boss and he asked her to be his "mistress". So really there was nothing wrong. She didn't even knowhe was married until the third night when Derek had told her about Anggie.

The next day was simple for Emma, she simply walked into the office and stared at Derek the whole day until finally he called her into his office.
"What do you think you are doing staring at me all day? I have been asked too many questions already by Anggie. Not to mention, she is pissed off about last night." his face looked stern and mean. But all I could do was smirk. She had always gotten on my nerves even at work, but I didnt let it get to me today.
"Yes, Sir sorry. Umm, Do you think I could have a few weeks off? Maybe just to get my head together." I said as he lifted his head and smiled.
"That sounds great, Emma. I will grant you two weeks of excussed absences and then if you decide not to come back then I will fire you. Is that good enough?" He asks kind of happy now, but walking to the door slowly.
"Sure, and I will see you in two weeks." I said as Anggie walked into the office and then quickly stated.
"I know what you and my husband did last night and I am NOT happy about it. But if you would please, I like to keep home life at home and work at work. So-"
"I so dont care, I am leaving for two weeks to get my head on straight before I try to work anymore." I said after interrupting her and then I walked out the door holding my golden Gucci purse and my purple sweater.


Two days later, i am sitting on my porch eating a grilled chicken salad, reading the reader's digest when I notice a figure coming up the beach in front of my house. I knew who it was instintly. Derek. I stood up quickly and wiped the sleep from my eyes.
"Anggie doesn't know I am here." he says as he walks up my front steps and then sits on the top one.
"Would you like me to call her and tell her that you are? I thought I told you that I was taking a break from you?" I said standing up, walking into the house and then closing and locking the doors. Everyday at four o'clock p.m. Derek is here to greet me with a smile and some sort of gift. By the last day, he had bought me an original 1954 Ford pickup. And today, like the rest of the days he drops it off, lingers for an hour and then back off to Anggie he goes. Right after he left I ran outside and jumped in the truck to find a brand new, purple laptop and a bag full of my clothes from his house. I guess this is how much he owes me for everything I did for him.
The next day I was supposed to go back to the office. But I didn't I had packed up my things and went on a road trip to New Hampsire, where I would find my new life, away from Derek and his wife.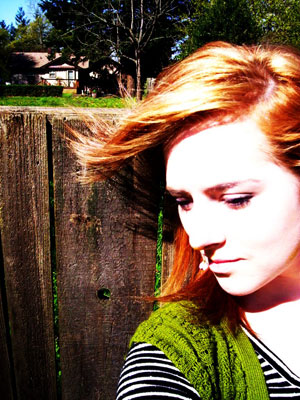 © Anna K., Portland, OR