Butterflies
May 13, 2010
We sat next to each other and I could certainly feel his body's warmth. I didn't know if I was invading his space, or if he liked it. He didn't move, therefore I took his silence as a sign of mutual agreement. We stared at the buses, and the people walking by, the dogs running and the leaves flying without a saying a word. No, we weren't nervous; I knew when he was nervous. If he was nervous, his legs would shake and he would avoid my eyes. His phone started to vibrate and he answered. I could hear the conversation.
"What?" he said, in a way that sounded more like a statement than a question. Instantly after that, you could hear an angry voice from the other side of the phone. Whoever was talking to him was in a pretty bad mood.
"Oh, the dog?" he asked. Then again, again the yelling started.
"I forgot" he replied and hanged up. Putting his phone back inside his pocket, he turned to me and carelessly said "My sister is going to kick my a**" and let out a small giggle.
Worried I asked him "Dam, you should go home".
"I don't want to" he replied.
"Oh because your sister is going to smack you?" I asked giggling.
"No, because I want to be with you" he replied and smiled.
"Sure, sure" I said avoiding his smile. Of course he was lying to me; he just didn't want to get his a** kicked.
"Seriously, Winy…" he said looking at me like if it was a serious situation. "I don't care what happened, every time I'm with you I just want to forget about everything else" he added.
I let out a little "aw" and felt my heart melting.
"You make me happy Winy" he said, and held my hand.
It felt cold, and bony, but I liked it. It made me tingle all over and feel protection. I smiled at him and said "You make me feel happy too, but what happened?"
"I forgot to close my sister's room, so the dog went inside and destroyed everything. She's mad at me, I should have let the dog die yesterday." he replied without pausing.
"Oh, so it's the dog's fault huh?" I asked, sarcastically.
"Now, she'll give it away, maybe to my uncle" he said, ignoring my sarcastic comment.
"Oh, but I think that she will get even madder if you stay" I said while he stared at some kids walking by.
"It will make me madder, if I go home now" he said and smiled again; my heart going gooey again.
"It will make me mad too" I said, and I could feel butterflies all over my tummy.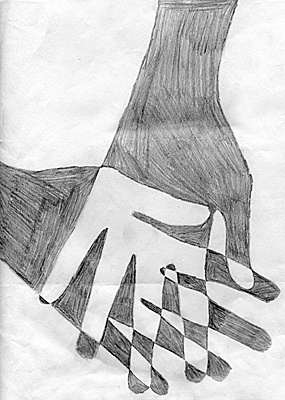 © Warlito B., Tamuning, GU