Premonition
March 24, 2010
"GET OUT OF MY DREAMS!" I screamed and fell off the bed. This wasn't the first time I had this dream. It was always the same. The same face, the same line, the same voice.
"Aly? What's wrong?" my mom poked her head in the doorway and looked scared.
"Nothing Mom, just a weird dream." I got out of bed and out on my sweats and sneakers and headed for the door.
The thing about living on the beach of California was that it was always a nice day for a run. As I got onto the beach and started running my heart beat faster and my thoughts became a jumble. I ran more that day than I ever did before. "Why was I having these dreams? It always ends up me and him looking out into the sun and then I wake up." I shook my head as I headed home and dropped my stuff in my room and took a shower.
After eating I headed out to the boardwalk with my camera and headed over to the place I work on the boardwalk, PIX R US. It's this really cheesy photography shop on the boardwalk where I get paid to take pictures of tourists. To be honest, it's not that bad of a place to work. But the feel of the wind chimes and the plastic seashells just makes this place look unreal.
"Rough night?" My friend Marissa asks as I unlock the shop door.
"As always M," I reply as the lock finally turns and I walk in. Marissa works in the Tattoo Wonders which is right next to the store I work in. Though I have more of a coastal look and Marissa's covered in tattoos, she can't help but remind me that I still have my Jersey accent.
"Don't worry Aly your dreams will change sooner or later… they have too."
"Gee, thanks M, but these dreams aren't even bad, they're freaky, but freaky in a good way."
M rolled her eyes, "That makes no sense whatsoever Aly, they're either good, or they're not."
Just as I was about to answer her, the bell jangled and we both looked up.
"Sorry Sir, but the shop isn't open until 9:30, its only 9." But as I looked up and my eyes met his I couldn't believe it. It was him.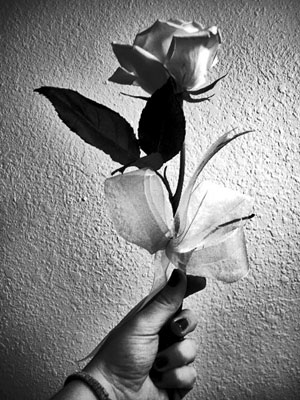 © Lauren R., Edmond, OK