My Boys Chapter 2
March 16, 2010
2. The second one was the next year, in fourth grade. It was a sunny spring day and I was trapped indoors doing multiplication. I sighed and gazed longingly out the window at the play structure shimmering in the afternoon sun and the grass swaying to a gentle breeze. I could feel myself going into a sleepy trance, when suddenly I felt a yank.
"Ouch!" I screamed as one of my braids was pulled with surprising force.
I turned around to glare at the offender, and was met with the fiery gaze of Cole's best friend, Taylor. He smirked at me and slid lower into his chair, folding his skinny arms over his gray T-shirt. I evenly met his gaze and narrowed my eyes at him until he looked away. Turning around, I decided to work on my worksheet. The minutes ticked by, and I was almost asleep when the recess bell sounded. On my way out the door, I felt a sharp jab in my side and I turned to see Taylor smirking. Before I could say something nasty to him, he ran off to join Cole outside. Cole secretly turned to look at me apologetically, but when Taylor slapped his shoulder he turned around to laugh with him. I could feel my blood boil at the sight of them laughing. In fact, Taylor had been the boy who had taken Cole away from me, in my mind at least. When I had finally pulled myself together, I swore to pay him no heed.
After that Taylor didn't do anything particularly mean, just a few shoves and glares once in a while. Then, towards the end of the year, we had to complete a huge project. The teacher asked us all to write our names down on a piece of paper so that she could randomly select partners. As the class sat in silence waiting for the verdict, I caught Taylor looking at me. When I met his gaze, a corner of his mouth turned up and his eyes rolled back to make a stupid face at me. I quickly averted me eyes and began to pray that I would not have to be partnered with him!
Then I heard my name being called and strained to hear the name of my partner.
"Let's see now," the teacher said, drawing out the suspense, "your partner will be.. Taylor."
No! I couldn't believe my horrible luck. I let out a loud groan, which my teacher overheard, and she scolded me and made me apologize to Taylor for being rude.
"Sorry Taylor," I spat. But when I looked at him I suddenly felt guilty, for he seemed genuinely hurt. Surprised, I took a closer look, and his face faded back to the cocky grin I was used to.
When all the partners had been announced, the teacher asked us to find our partner and start working on the project. I saw Taylor sauntering in my direction, and he swung out a chair and laid his lean body into it, leaning his elbows on the desk behind it. I rolled my eyes, walling in self-pity.
The project was long and hard, taking several weeks. Taylor turned out to be a hard worker, but we didn't talk much. Sometimes, he was even nice to me, and for some weird reason, he even acted shy at times. But whenever we started having a good time, laughing and chatting happily, he would suddenly close off and turn away, returning to his emotionless façade. On the last day of school, Taylor and I successfully presented our completed project. We were both very proud of our work, and he even high-fived me afterwards. Towards the end of the day, our class had a big party, and I was on cloud 9 in anticipation of summer. Then, when the bell rang and we all whooped and flew out of the classroom, I hugged my friends, waved to everybody, and started to make my way to the parking lot. Suddenly, someone grabbed my arm and twisted me around.
It was Taylor. I looked at him in confusion, and noticed that something had changed. His eyes were soft and gentle for the first time, and his pale skin seemed to have a warm, summer glow. For the first time, I noticed how pretty his sandy colored hair was, the way it curled around his narrow face, and his almond shaped brown eyes that seemed to soak up the sunlight. We stood there staring at each other for what felt like an eternity, and then he spoke:
"I'm moving away this summer." He said, analyzing my face for some response.
I was so confused. I thought he hated me. Why was he telling me this?
Suddenly, without warning, he leaned in until his face was really close to mine, and I could feel my eyes widen in surprise until they almost popped out of my head.
"Goodbye." He said. Then he leaned in and kissed my cheek.
I swear that at that moment, time stopped. The yelling and laughing around us ceased, and all I could see was his big brown smiling eyes. And all I could feel was the warm sun covering both of us, and his soft lips on my cheek.
Then the moment snapped, and everything came crashing back around me as we took one last look at each other.
The next thing I knew, I was watching his black backpack bounce on his strong but thin shoulders and his clunky black sneakers rhythmically hit the pavement as he sprint away from me. I watched him run until he disappeared from sight, while I stood there rooted to the spot for a good five minutes.
I never saw him again, but that moment still lingers in my memory like a simple, sweet secret we both still share.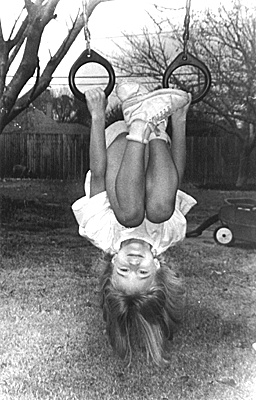 © Nikki W., Highland Village, TX