Hair and Love
February 6, 2010
Snip. Snip. Snip. Snip. Snip.
Giant rusty kitchen shears, also known to some people as "scissors," gleamed menacingly under the fluorescent lighting of my bathroom mirror. They were the big, industrial kind that were usually reserved for opening those plastic cases or cutting thick cardboard. I was doing neither. Actually, I was doing something that some would consider a bit over-the-top for such large blades. I was cutting my hair, my beautiful, silk hair, and I was doing a horrible job. I looked at the ground and saw, with horror, my dead locks fanned out dramatically on the tile floor. Long ribbons, some nine inches long, were gone forever. I felt my heart thump erratically as I continued to even out my new, ugly hairdo. The hair continued to fall, lesser now. Tears welled in my eyes when I was done. I didn't want to look at my face, but there was literally no other option. The thick, black curtain I'd hidden behind for my whole life was gone. It was my protection, my shield, and it was gone. I'd spend the whole of my seventeen years manifesting and cultivating these shiny locks like they were a child. I deep conditioned it every time I went swimming in the summer, every single time. I never dyed or colored it. There was no need; it was a pretty and deep black, as uniform as night itself. I washed it daily, though never so much as to where I would dry it out. I only used the top-of-the-line products; the salon brand stuff that I could barely afford. I towel dried it before blow drying so I wouldn't damage it so much. I carefully brushed it out every night before bed, doing so tenderly and lovingly, feeling the softness of every strand. I loved everything about my hair. How heavy and thick it always felt, how it sheltered me when I didn't want to look at people. I loved the contrast it provided against my pale white skin and emerald eyes, eyes that now looked too green and too big without the layers framing my face. My hair was straight as a rod, and it never frizzed or felt dried out. It was a give-take relationship we had, me and my hair. I got trims twice a year, and even those were hard. It always felt stuffy in the shop; the stylist with her too-short, multicolored bob that never moved. I secretly suspected that a bullet wouldn't do damage to her hair. Then, even when it was over, I wasn't able to look at the pieces on the floor. It would be too much like a funeral procession, and I might start reciting a eulogy. That would make them think I'm really crazy… And I probably was. But they didn't have to know. Right? Right. The point is, my hair was my safe harbor. I didn't think there was much attractive about me besides it, and so I always took pride in the comments that came from it. My mother's friends fawning over me, exclaiming enviously how lucky I was. So I'm sure you're probably wondering… What in the world would possess me to do it if I loved my hair so much? The answer is simple and obvious and stupid and unreasonable.
A boy.
He was special to me, even if he did have a girlfriend. I liked him a lot, in many ways, and I had for almost a year now. He was such a good and decent guy, so very sweet to me. He was also the only person I'd ever heard say anything remotely negative about my hair. It was at school, two weeks ago, at lunch. I was talking to him, and we'd gotten on the subject of relationships. It was cold outside, and since I was especially pale, I blushed easily; another excuse to hide behind my shield. His words were burned in my memory.
Why do you do that? Why do you disappear behind all of that hair when you get uncomfortable? It's like I can't see you anymore.
And I wanted him to see me. All the time, whenever he wanted. So here was his opportunity, and mine to show him. I looked again at my reflection, and saw the flaws I'd tried to hide for so long. My eyebrows and eyelashes were too thick, lips too full, face too angular. But in there, somewhere, I saw a different girl. Maybe the one he was talking about.

I swept up my hair and dumped it in the trash, a little less devastated than before.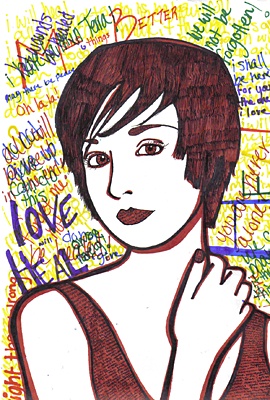 © Sara D., Aiken, SC