Immortal love chapter 6
February 6, 2010
I walked into Ludicrous's dorm. His room was defiantly bigger then my room with Capa. Plus Ludicrous doesn't have a room mate. His room was like a king's bed room. A large bed probably 5 times the size of a king sized bed with a gold confider and golden pillows. The bed was also on a plat form 5 steps off the floor. The steps were white marbled and very nice. There was also a hot tub in the corner of the room along with a stack of towels and a bottle of wine half drunken. Against the wall was a double set of doors that must led to either the closet or a bathroom course I guessed the doors on the opposite side of the room went to the bathroom? There was a desk against the front wall and two balconies on each side of the back wall with giant glass doors that led to the balconies. The room was amazing.
"You defiantly have it all here" I said still staring at the room. "Yeah. Being the head master's son does have its perks" he said. I sat down on the golden bed. "I wish my room was as nice as this." I said. He sat next to me. "Course we'll find you a room tomorrow morning" he said. "I don't want my own room" I said leaning back on his bed. "You want a room mate? We can arrange for that." He said. "Ludicrous I want to stay with my fiancé if he doesn't mind" I said. He jumped a little. "I uh……" he trailed off. I frowned.
"If you don't want me to stay with you it's fine. I don't mind having my own room" I said. "No no I'm just shocked" he said. "You should be. Getting to sleep with such a pretty girl must be new for you" I giggled. "Wait are you saying you're not a virgin?" he asked. "Are you saying you are?" I countered. He chuckled. "I'm not a virgin" he said. "Neither am I. Now that we've gotten that out of the way do you want me to stay here or not?" I asked. "I…..I want you to stay here" he said. "Good. Cause even if you said no I wasn't planning on leaving anytime soon" I giggled. He laughed and we sat (well I laid) there laughing for a while until I couldn't produce another laugh.
I sighed. "So I see you drink wine" I said staring at the red bottle of wine. I got up and walked over to the hot tub. I picked up the bottle of wine. "Roberto Mondavi. Very nice tasting wine" I said. I popped the top off and picked up a champagne glass. I poured enough to fill up the glass then sipped at it. "Delicious" I said. "Do you want me to pour you a glass?" "Yes" he said. I picked up another glass and poured the wine into the very nicely made champagne glass.
I walked over to him and handed him his glass. "Shocking your not into beer like most guys" I said. "I prefer wine. It's more filling" he said. "I agree but I do drink my fair share of beer and fruity drinks" I said taking another sip of the wine. "Delicious" I whispered.
There was a knock on the door. Ludicrous eyes widened. "It's my father" he whispered. I shrugged and sipped at my wine. Ludicrous groaned. "Come in father" Ludicrous called. His father walked in. When he saw me he glared at me. I sipped at my wine. "Hello Head Master Stone" I said with a smile. "You shouldn't be drinking wine Mrs. Mason" Head Master Stone said. "To late" I said sipping at my wine. It was almost gone. I finished it off. Ludicrous sighed. "That's helpful" Ludicrous mumbled to me.
"Do you have anything you want to talk about with Ludicrous? I can go outside if you wish Head Master. I wouldn't want you to have to deal with me so much" I said. I stood up. "No no sit please Mrs. Mason" Head Master Stone said. "Sapphire if you don't mind Head Master" I said crossing my legs. I could tell my dress had been washed. I guess Mimi must have washed it. Her scent was all over it so I didn't need to worry about blood all over me.
"Son have you decided on your wife yet?" Head Master Stone asked. So that's why he told me to sit. To break the news to me personally. To make me hurt. I laid back against the bed. Ludicrous sighed.
"I have" he said. "Who have to you decided son?" Head Master Stone asked. "Sapphire Margery Mason" Ludicrous said. How the heck did he know my middle name? Owe well. That didn't matter right now. "I forbid it" Head Master Stone said. "It's to late. We've already mated" Ludicrous said. I looked at him. What the heck does he mean by mated? "Son" Head Master Stone gasped. I sat up. "You know mating with a new born is forbidden" Head Master Stone said. "I don't care" Ludicrous hissed.
I stared at Head Master Stone waiting for his reaction to this knowledge. Apparently mating was a serious thing. Something you really can't mess with. It must be even worse for new borns.
"I will talk about this with your mother" Head Master Stone said then left the room with an angry look on his face. He slammed the door.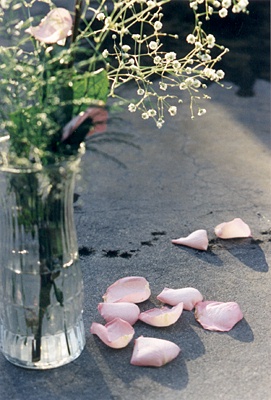 © Mary A., Fullerton, CA